"We used to have inter-island activities, responsibilities that are done from one island to island that are still happening these days. From clan to clan, family to family, that is still happening. But not with the serious intention it had before this. It is not serious as it was before."
"The people of Falalop and Asor—the big islands—they have food," Ignathius says. "We don't have much on Mogmog, and the people of Fedraey, they don't have much food either. But we have fish, so when we get some fish, we give it to them and they bring us some food. That's exchanging. Well, we still do it, but now we have boats, people can go wherever. We still do that sometimes, but not like before.
"I will blame the money for that, because now we have the money, I will think of myself first. I'll just delay helping others because not enough for me yet. But it's hard to get money here, there's no job or anything, so once you get money, you want to hold on to it, then worry about these other people later."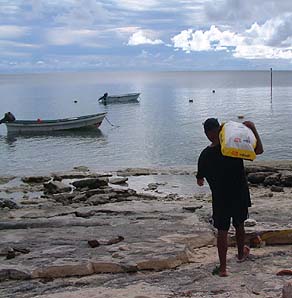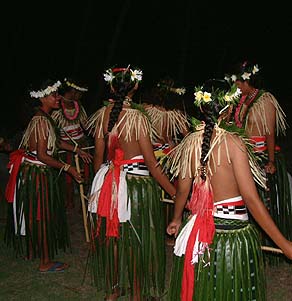 "For dancing, we have to cooperate. We have this group of men and women, like an organization, they start talking and planning things, it might help if they bring up those things and see if we can still hold on to them, or maybe we cannot anymore. Because we need cooperation in all these things that we do together. Only one or two persons cannot do the dance, many people are needed.
"So we need to cooperate, but I think that's our problem now. We don't seem to be cooperating any more. I'm blaming that on money, because before, when things were plenty, we seemed to cooperate and do things together. But now I work, I have money. We're still trying. I think in the whole Ulithi Atoll, each island is still trying to cooperate, on their island. But the cooperation between all the islands is dying out, I'm afraid.
"I feel that it's important to hold on to traditional, culture things, but the changes are so rapid that people seem to lose interest in all those things. And if they are not interested in them, we cannot do them."