"Changes come to the island as a result of people going off to school. Some of them went and never came back. And those who came back, they brought back what they saw out there, and they tried to imitate it. For example, they'd come back here with a big boom box—radio, tape recorder–and they'd walk on the road with the volume up, blasting off. And people didn't do that here before, youngsters didn't do that here."
"It is much, much different," Chief Yatch says. "We are learning part of American culture. You can see people here, they wear clothes. But we don't care whether they do—women, we don't care if they go topless, it's nothing. Not like you Americans. Here, we don't care.
"I think while they are out and around, they become Americanized, Westernized. We are spoiled, you know, because of Western culture. But when we were at home they didn't care. That's the part of culture."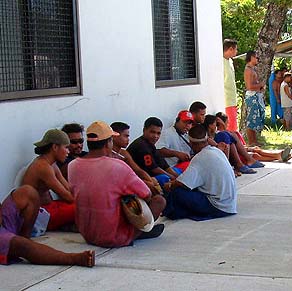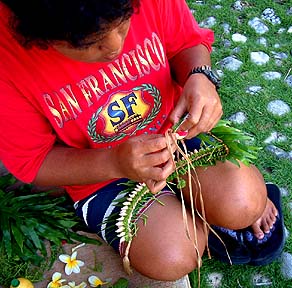 "You can notice that some of our ladies keep on their shirts now," Philip adds. "They are self-conscious about their bodies, which is very different than before, because we are used to seeing them without tops and without their bras, and they don't mind because we're used to it. But now they are very shy to take off their shirt. I think these changes have come because of travel and the television and they have seen other people from other places."
"Some people, they go out and learn things from outside," Alphonso concurs. "Let's say these that grew up in Hawai'i and other states and they came back here, they try to apply what they know, but it cannot fit with us here. And some that grew up here and went to school outside, when they came back they've forgotten about how things work here. They just think about what they learned outside."