"As long as it's there for you, that's the important thing. You can always go back and develop it as you need. You just sort of depend on it now for your day-to-day needs, as long as it provides for it. And when it doesn't, then you go and put in a little bit more to provide for your increasing needs. It's not like when you have to go in and build a big farm of, say, bananas because you put so many bananas in there to sustain you for whatever you needs are, and then if it becomes not enough, you expand it as it becomes necessary.
"But I don't think the land has been effectively used. It could be used where we can have it more productive. Many people are not using it to maximize it's ability. At the same time, that doesn't necessarily mean that land has been devalued any."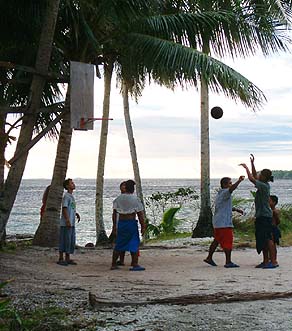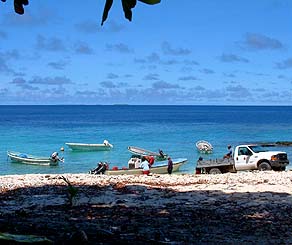 "Now we have boats, we have concrete houses, we have ice boxes, TV, which we didn't have before," Philip states. "We have airplanes, an airport terminal, we have concrete buildings for typhoon shelters and church, and dispensaries, and some of our kids have become Sisters and Priests.
"Before, we had only thatched-roof houses made from local materials and sometimes when we had a typhoon, most of our houses were broken and we'd have to repair them. But a good thing about that also is that in the past when people were working together, we didn't expect payment.
"For example, if my house was broken, everybody on the island would come and help me to build another house. If I needed a canoe, then people on this island would help me to build a canoe."