"There are different names for parts of the waterfront," Isaac Langal says, "but I don't know what they represent. These terms are the same for all these islands. Right up next to the water is mwechngatted, it's right up next to the water. Then probably where things got drifted on the land and landed on the beach, from that area up, it's called daerlema. From that, maybe ten yards further inland, it's different name."
"Here on the island, on Mogmog, all of us are from here, we can just go and get beach sand wherever you want," Hosay says. "Our concrete houses, that's what we need sand for.
"Any valuable thing that's washed up on the shore, that's for the chief. But the sand is there for everybody. As for plants, if it's a coconut tree, and someone says 'that's my land,' then the owner of that land is the owner of that spot. Medicinal plants, anywhere you find it, you can get some piece from it for your medicine."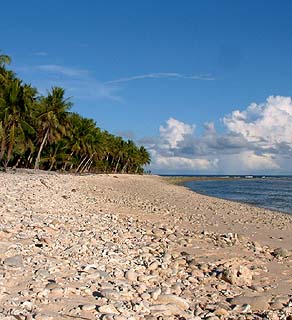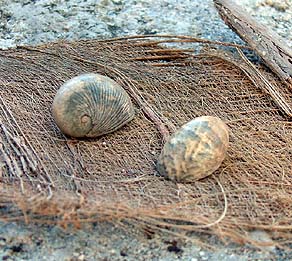 "People go out at nighttime and they catch a kind of snail shell that they eat the meat inside. There is no problem with gathering those anywhere. And they just crawl around. It's not a harmful thing. Even the small kids, they just pick them up and put them in a basket.
"But if I go to Sohl'oay to collect those, I'm supposed to ask permission before I go get those kinds of shells. These are collected near the beach, and only nighttime. Sometimes daytime you can find them but mostly it's nighttime that they come up. They are very good, especially when we soup them with coconut milk. Sometimes they just boil it with salt water and leave the meat inside."