"One version of the story, from here on, says they retreated back to L'oosiyep, recuperated a little bit, prepared again, and then went back to Mogmog. Several attempts were made, until they were able to kidnap this Princess, the daughter of the chief, who was taking a bath in the water by the shore."
"The General of the group that came from the L'oosiyep—a Prince—saw a daughter of the chief of Mogmog," Alphonso relates, "and wanted to marry her. This was during the hostilities, and so he was going to just grab her. There were two daughters, they had the same name. And he was going to grab the young one and take her back to L'oosiyep.
"But the older one was there watching. So she begged the men not to take her young sister, but to take herself instead—they can do whatever they want with her, never mind, but she doesn't want her young sister to be taken. It was still hostile and she was afraid that they might kill her or something like that. So, he agrees, and took her and went back."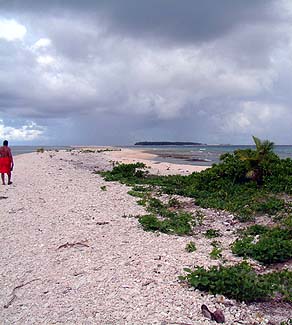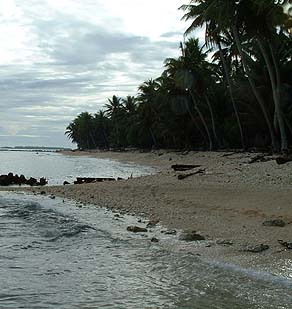 "My version of the story," Mariano continues, "is that the Prince of L'oosiyep was wounded during one of these attempts. He was wounded and was left for dead, or maybe he jumped into the water and swam a little bit to other parts of Mogmog. It so happened that when he came up on the beach it was in front of the Women's House. He couldn't walk, he was too wounded, he just came up on the beach and probably passed out.
"Early in the morning the next day, while it was still dark, a princess of Mogmog came down to pee, and it so happened that she peed on him. That's when he came to, and was moaning and the lady was scared. That's when the lady found this man, and found out it was one of the L'oosiyep warriors. So she tried to hide him and nurse him back to health.
"That's when they got to know each other—now this is my version—and finally they fell in love. They decided to get married, and so the Prince took the Princess to L'oosiyep. They got married and the Princess became pregnant."