"In the legend of this place, the people of that island were giants," Philip recounts, "and they hung upside down in their trees and slept there. They were probably half man and half ghost, and you can see the evidence, in that the footprint there. It is about two or three feet long. And maybe a man stepped into the sand and it became hard, and so now it's in the rock, but it's still there.
"As far as I still remember," Alphonso says, "stories that I heard said that the biggest guy is six lengths—from the thumb to forefinger, that's how they measured things—from here to here, across his chest, it was six of these. You go one, two, three, four, you can imagine, if it's six, then you know that he's very huge. It is the reputed size of the chest of those people from L'oosiyep."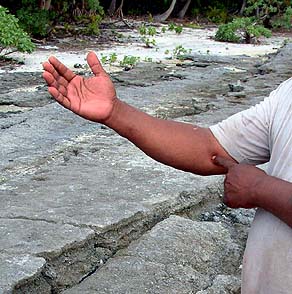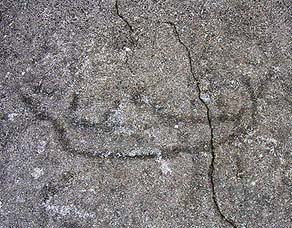 "They talk about it in a chant: he's from L'oosiyep and his name is Fi, and if you measure from here to here, that's six of those lengths. He possibly had some kind of footprint like that. I saw the footprint. I went over there many times."
"There is also a picture of a canoe," Philip says, "near the footprint. It is the old type of canoe that people had here. Somebody drew this picture, probably on the sand. And then, because it's been a long, long time, the sand becomes sandstone. So it's in the rock now. It's permanent."
There is a story that says this canoe belonged to three brothers from L'oosiyep, whose exploits led to the origin of Fais Island.