"So his father, Paeliul'ap, said, 'Go down, go down to Earth,' and gave him a canoe and sent him down to Earth. And he told him, 'and there is someone that you have to watch out for, he's the top navigator who is living on Earth. And you have to break your hammer and all those things. But when you go down there, when you have kids, you name them all after your brothers up here. And you, you'll take my name.'
"And then he adds 'whenever you do something, you pray to that man,'—his brother Yaeliiulwey—'because he's going to be your navigation god. And when you have, before me, you take a fish and you put it up for him.' So that's what they were doing. He came down and did all the things that his father told him."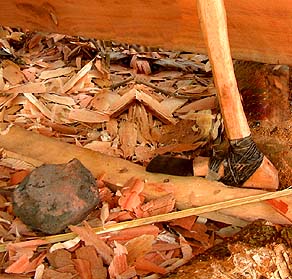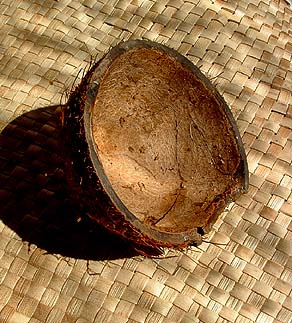 "Now there is another one among the brothers, whose name was Farbay. Farbay had the same kind of mentality as his grand father, who is Yol'faaed. So when he starts eating, instead of giving good food—lets say coconut—he took the thing that holds the coconut and said 'for Yaeliiulwey.' And when they ate bananas, he took the peel and said 'for Yaeliiulwey.'
"Then finally they made a canoe, and they all got up on the canoe and started to sail. And it so happened that they were close to the sand island—they hadn't seen it yet, but they were close by—when a typhoon hit them, and they were all killed except Farbay.
"Farbay started swimming, and when he thought, 'Ah, I'm going to die,' then he would feel something come under his feet and he would stand up and take a rest. And when he said, 'Ah, now I'm O.K.,' then that support vanished off, and he started swimming again. And when he finally said, 'I'm going to give up and die,' that's when Farbay stepped on to the beach on the sand island."