"There were several communications with the Pope, and finally the Pope allowed them to seek out these islands. So they sailed from the Philippines to Guam and then from Guam to Ulithi. The priest's name was Father Cantova, and he brought with him another Jesuit priest, Father Victor Walter, as his assistant, plus a Filipino servant and some soldiers.
"After spending a few months trying to convert the people of Ulithi, he was sort of creating an imbalance among the local people. Some accepted the Christianity that he was preaching. Some were really against it. So he was, at that time, not very popular in Ulithi.
"The division was based his Christianizing young, newly born babies. So that in and of itself sort of polarized the communities between those that were willing to listen to the priest, and those, usually older people, who were deeply rooted in the practices of the old ways, believing in their own magic and their own prayers.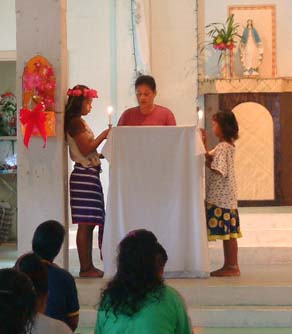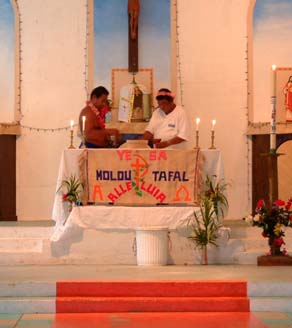 "One could interpret it as the Spanish taking away some of their influence, because the old priests were the authorities then. But when the Spaniards came, they had to share that with Spaniards because they been taught something higher than the local priests.
"So that created conflict, and to make the matter a little bit worse, some of those children died when they were Christianized, for reasons that we don't know. Maybe because of the introduction of diseases that were foreign to them, by the priest and so with those who were biased, that really created a very tense relationship with the priest.
"As far as I can remember from talking to our older people," Issac says, "the conflict between the earlier priests that came out here, and the local people, it was a conflict of the religion and the culture. Before, one man could have two or three wives, but when Catholicism got here, they allow only one wife, and maybe people didn't like that.