"A lot of migrations came over to Palau, according to what studies been done," Walter says. "The earlier migration to Palau, if there was one, they first settled on the Rock Islands. And there they lived in the caves, and Rock Island villages.
"Then maybe when they over-fished, or they didn't have enough water, since there are few resources over there, so they probably migrated to all the way to the big island, and that is where they are. So most of the old migrations were coming from Rock Islands."
"There was a village up north by Kayangel atoll, up there, called the Ngeruangel, the sunken village. So maybe there was a migration from that direction, from the north too, maybe connected to the rest of Asia.
"But all the migrations to Babeldaob are from the Rock Islands. Probably the direction the island people came—the ones occupying this island now—was first to Angaur, Peleliu, then the Rock Islands."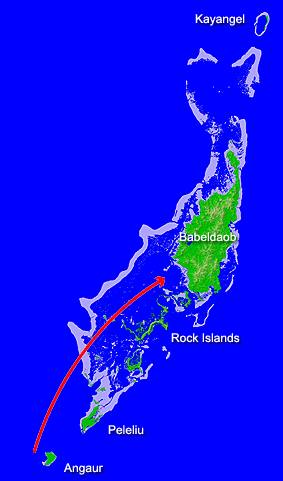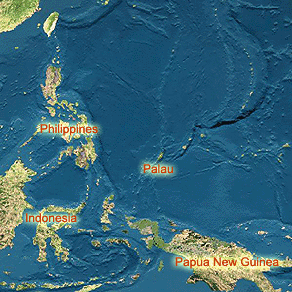 "The archaeological books talk of the first wave of Palauans." Tina points to the many ancient terraces that remain on the Palau landscape. "But when you see the traditional bai beams you don't see the story of these terraces. Anthropologists and archaeologists, they differ on many things, but they believe the terraces were fortifications.
"When the first wave of Palauans came here, maybe there was not enough water, and they probably abandoned them or something. Maybe they were very involved in general warfare, that's one of the justifications for those things, that they were built for war purposes. But that's one of the things that needs to be studied."