"Milad came to a village up on the hills of Airai overlooking this village, known as Ngcherau, where she planted taro upside down. And while there, her daughter became a friend of another young girl there. Whenever Milad went to the taro patch, her daughter and the neighbor girl would go swim in a pond. But unfortunately, the friend had no lunch snacks, because her mother could not cultivate taro.
"But Milad was some kind of a supernatural person, and had plenty of taro. So Milad told her daughter, 'when your friend has nothing to eat, you give your share to her,' which was done. And the friend's mother asked Milad to help her plant her taro. But Milad started planting the taro upside down, because she was supernatural, so instead of planting the taro to get the root, she would just go and harvest the taro because they were planted in reverse. It was easier to harvest.
"When the mother saw them planted upside down, she expressed frustration by saying, 'how stupid, you cannot plant things upside down.' So, Milad could not stand to live with her anymore, and she moved down through the village to the east side of Airai to the village of Ngchesang, to a small area known as Ngerchebukl. There she became known as Dirrabkau. Dira is a title used for women. Bkau is a tree."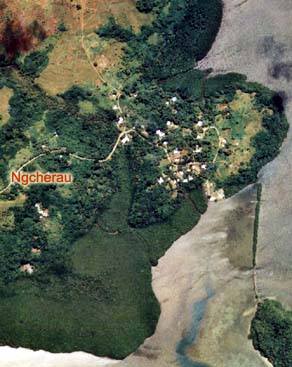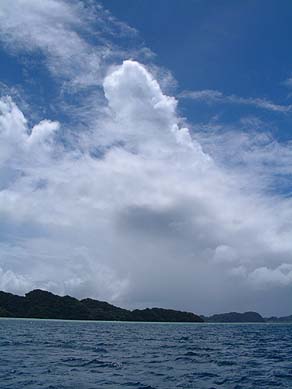 "While she was there, some earthling, a Palauan, plucked out the eye of the Keeper of the Ladder to Heaven, Tembokl. So Uchelianged, a really major god— uchel is god, eanged is Heaven—sent seven tekiimeláb. Tekiimeláb are people who, in the olden days, were half-man and half-god, like angels or something. He sent seven of them—seven is a good number in Palau—and told them, 'you go and try to find the person who plucked the eye of the Keeper of the Gate to Heaven.'
"And before they left Heaven, the Heavenly God baked semi-brown coconut, called ulechóuch. When you burn the shell it becomes black and it gives a specific aroma, supposed to appease the gods. God told these seven tekiimeláb to descend upon Angaur and walk across the Palau islands. And, if they came to a place where the baked coconut would explode, they should stop and look there."