"But it is not used not as a traditional bai, in the traditional protocol like in Airai. Nor is it located on a traditional bai site. It is part of the national museum complex. This bai was built by local people, built and painted. That knowledge is still here.
"Those in Melekeok and Aimeliik are traditional bai on their traditional sites, and are used by the rubak or the chiefs there. It is a very traditional. They are very much like Airai: they are built on original sites, stone platforms, all of that. But they are much more recent than the one in Airai. The Airai one is the oldest."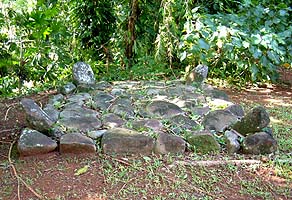 .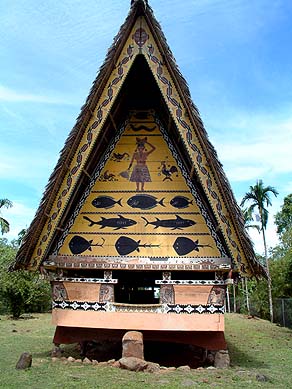 "I think recreating the bai in Aimeliik and Melekeok is an important part of the continuity of our culture, and the knowledge and skills of people of those villages. That way you maintain and preserve the art of building, the art of storytelling, the art of carving, the art of painting. The Palauans were painters as well as carvers, as they painted the bai, using the traditional coloring system.
"Since Melekeok and Aimeliik built their bai, there probably will be other villages where the traditional council would follow suit eventually. I've heard some villages talking about it, so there's a likelihood that more villages will build their own traditional bai.
"I know of at least three people who know how to do all the measurements and so forth to build a bai. They are in their 50's. There is also a person that has written a booklet about the bai, with the measurements, the names of the measuring system in Palauan, the parts and the designs, and so forth. These terms are preserved by just writing a book about the bai. "