| | |
| --- | --- |
| Dune Burials | |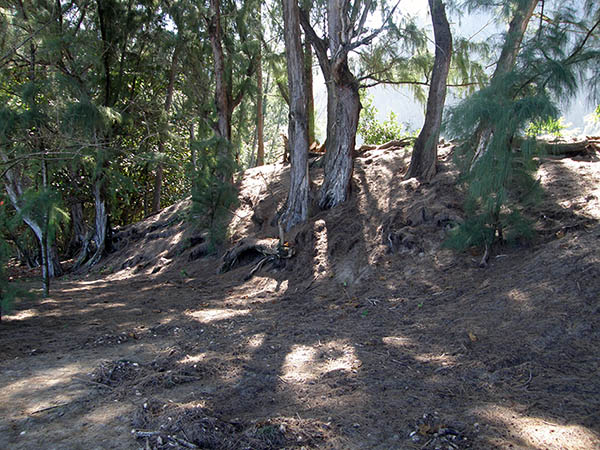 "All of the sand dunes along this coastline are burial sites," says Carlos, "all along the coast in Hā'ena. Wherever there are sand dunes, there are people buried there. Traditional burials were often done in sand dunes. Practical reasons: easy to dig. And people lived along the coast. But these burials are not often recognized by contemporary residents who have moved here from the continent and elsewhere. More often than not, people trying to build houses down here along what realtors call prime beachfront coastline discover bones when digging foundations."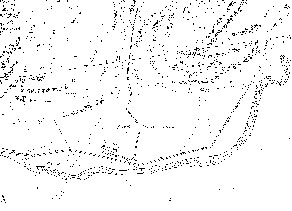 1871 Map showing the old road that ran behind the "sand hills."
Carol Silva's study of the lands within Hā'ena State Park includes a discussion of the dune burials. She cites various authorities who suggest that dune burials were associated with the aftermath of great battles, or that "the common people were buried in dunes and their graves were little thought of." Considering the tradition, noted in the story of Lohi'au, regarding cave burials for ali'i, Carol concludes,
"As for the Hā'ena commoners, the sand dunes were the most reasonable place for interment. Considering again the physical environment, HHā'enaa has limited kula lands (flat, open fields/pastures) being that the cliffs drop so sheerly to the shore. Premium kula lands would be dedicated to those uses which sustain life - auwai, taro cultivation and residences. Thus, if the dead were not buried within a family houselot, the sand dunes would be utilized. Hā'ena's fairly sizeable resident population through time...would be reflected in more than moderate burial activity in the sand dunes."
"Well, we claim it's burial grounds," Samson says. "I don't know if it's burials or what happened, but we believe it as such because of bones found there. So I don't know whether it was designated burial, or because there are plenty bones, and then they designated that thing burial. If they had burial, or fight before and ended up there and buried in that sense, I don't know. All I know is we used to come by beach, come by the sand dunes. Rough tide, the thing was eaten, all this stuff come out, skulls hanging there, and bones hanging. Stuck on the pine roots. So you can find that on most shores where the sand is eaten."
"Back when I was a kid, nobody built on the ocean side of the road, Ka'iulani remarks, "because it was well know that there were thousands of bones in every area all along the coastline, from Wainiha all the way to the end of the road, Kē'ē. That entire coastline is host to thousands of Hawaiian graves.
"Nā Hala o Naue, I have huge fond memories of being a child just roaming that coastline, with no multi-million-dollar homes there, no prying eyes of visitors, just us going to the reef to get our limu kohu and our reef fish. We called it 'the refrigerator,' that area. And we knew you only go and take what you need, and you had to walk really lightly in that area because there were always bones rolling in the surf. And we saw them as children, and our aunties would just say, 'Watch out, there is a bone over here, go over there.'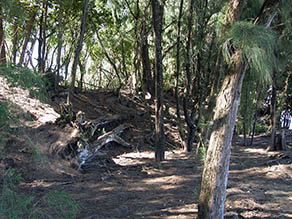 "We didn't touch them because that area is known as a leina. Every island has them in different areas of the island. And that leina represents the jumping off point for the soul into Po. Po is the next realm, the pregnant realm of darkness. For Hawaiians, darkness is not bad, it's where everything comes from. Zero is the point of positivity, not negativity. And so in Po, it's dark, it's expectant, it's pregnant, and this is where the souls go and they roam, and they can come back and forth through the leina.
"The entire area of Nā Hala o Naue is what is called a lo'i kula, and a lo'i kula always includes water sources on either side, a center for learning, and a living village. And this area, Nā Hala o Naue, was a lo'i kula. So you even had a hospital there. It was a bustling area. When you think about how these islands were populated, back when, it was almost over-populated except they didn't destroy nature, so they were able to function well. But it was a very bustling area. You had the canoe house right next door. You had other areas in this lo'i kula that were dedicated for the fisherman, for the gods, and so forth, and in the middle of it all you had the hospital that treated the women and children. But in every hospital there are casualties, and there are people that pass, so this was the graveyard of the hospital.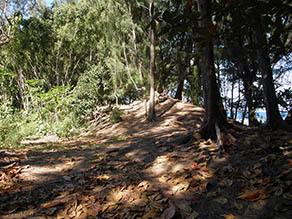 "That's why you find so many remains of women and children from all over the archipelago and all over Polynesia: people came to this are to be healed. Nā Hala o Naue grew this red hala, pandanus. But the fruit was big and fat and red and a huge source of vitamin B-12. So they made elixirs with it to heal the women and children that came there, and treated various illnesses.
"My family, when we built our house in Hanalei, we found bones and my mother moved the house. Her attitude was, 'We're not building on those bones and you don't hana ino them, you don't dig them up.' Interestingly, in the last two big hurricanes, the only untouched house on my street was my house. So you know, there is something to be said of respecting the dead and knowing that they still exist even though they are over there, at our conclusion."
---
These several sites help constitute the Hawaiian character of the Hā'ena as a place. Language helps encode the nature of Hawaiian places. Then from here, we turn our attention to the Living World.
---