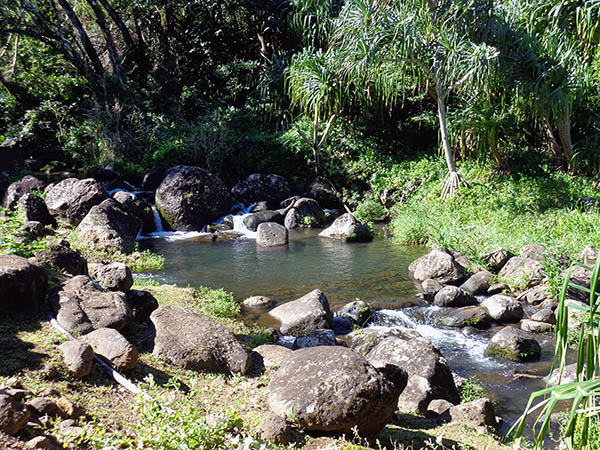 Limahuli Stream.
Two perennial streams served Hā'ena, one each in Limahuli Valley and in Mānoa Valley. But while down in the lowlands these streams seem always to be full of water, the upper reaches of the streams can be down to just a trickle, dependent on recent rainfall to feed them. How can this be so? Chipper explains:
"One of the things included in the ahupua'a of Hā'ena, is an area that was probably also a very rarely used resource area, is the hanging valley of Mānoa, which is between Wainiha and Limahuli, and is up there perched about 2000 feet up above, there's no access to it other than climbing up these shear cliffs.
"You have this big mountain with a valley on top of it—a very shallow valley, that has acted as a huge reservoir of water. So this whole mountain fills up with water, and comes out as springs at the base of it. These feed Limahuli and Mānoa streams.
"So as you go up the valley along Limahuli stream, you see that there is a lot of lo'i development, because all along the base of the mountain here, we have springs coming out and producing tributaries. The ridge between Hā'ena and Hanakāpī'a, however, is a knife-edge ridge, and there's very little spring action because all the water is just running off, it's not being caught.
"Limahuli stream is one of the few virtually pristine streams remaining in Hawai'i, The waterfall falls about 800 feet, from 1600 feet down to 800 feet. It's often not running really hard. Limahuli averages about 5 million gallons a day, and most of that water from that, about 80% of the water, comes from springs that are located along the base of the cliff.
"Mānoa stream, again, it's basically the same. About 80% of the year, the waterfall is dry, and that stream comes from springs that percolate from the base of the cliff there."
There are two better known springs, on located right where the Wichmans live today, between the beach and the pali, near the stone Pohaku-loa. One of these is called Wai Kapu and was said to have been used by the ali'i at Hā'ena as their source of fresh water. Chipper says, "That spring used to come out right about where the highway is now, though since they cut the highway it comes out a little bit lower, but you can see it right on the ocean side of the road there, we've got some lo'i and some taro growing down there."
The other is a spring further up on the cliff, called Ka-wai-aloha, "the water of love." Chipper says that the spring of Ka-wai-aloha was one of the rallying cries of Kamehameha when he was rallying his troops to come and conquer Kaua'i.
"They wanted to come and eat the anai [mullet] of Wai-makua, and taste the water of Wai-aloha. And he never got to, poor guy! So this area here is one that was associated with ali'i and was supposed to have been a kapu area."
All five species of native Hawaiian freshwater fish, the 'o'opu, inhabit Limahuli stream, as well as freshwater shrimp ('ōpae) and limpets (Hīhīwai).
Read about catching and eating them here.
In the lo'i area, there are two small ponds or loko. "If you walk down the road," Carlos says, "you'll see bulrushes and things. There's not much water in it now. But if you look at the old maps you'll see it, they've identified it."
"Get two" Uncle Tom adds. "One is inside there, and one is back here—they're two. I don't know what it was, what kind of fish they used to raise inside there, mullet or what, I don't know. But way back and nobody talked about it—that's why we don't know. But when I grew up, had other kine fish, like goldfish, akupa, like that, but something to sell? No.
"And then the people over here used to use that water from inside here, because at that time, people never realized how much rain this place was. Because you know what, the rainfall per year at that time was 760 inches of rain. Waialeale, recorded up there. Today's only half way. That's why Limahuli not getting the water like what we used to see before. Had more water before. You go up the valley, Limahuli Valley, this river is made out from the spring. You go way back where the waterfall: only one trickle.
"When I was growing up, this pond over here was always filled. That's the reason why they never planted taro there. The water would come up right through there and that's how the old-man folks used to get the water to wash their dishes and stuff like that. Because they had their dish water over here."
The water is crucially important for feeding the lo'i. Uncle Tom recalls, "Originally, we had ditch irrigation. The ditch is right there. And the master plan, they going put back the ditch inside there, they say they're going to put back the ditch. I told them no need, we get a pipe there. But they like put them there—original—so they're going to do it. When I tended taro here, it's all ditch irrigation. The ditch you get more water, And like I told those people, I say, 'You know the ditch, you should bring the water because of the fish. That's where the mullet, the ahole used to breed inside here.' So we had the water draining from the pond of water over here. The pond over here used fill the fish pond.
"Sometimes, when they're dry—no more water—the water will come from underneath. And then plenty water, all spring water coming through that river. Feeding from the side. You go up past the lo'i up there in Limahuli, it only trickles down to one little ditch, the water. Not enough to irrigate the patches up there unless you go block one, some place one spring for take them over there. For they got plenty lo'i up there in the valley. So that tells you, that tells you there was a lot of water before that could handle all that.
"What happened, the water used to come down in the ditch. They had one redwood box, maybe four by six feet, and the water would come into the redwood box. And then the pipe connected to the water tank was open. It was like a water tank, but open. That's how we got our water—all on the overflow. But the water would go right through the pipe and end up right here at the lo'i. They going dig the bank inside there, they going find the pipe. I think it was one one-inch pipe for these two houses over there, because we used to bath down here, because we had water by the house. We had one house over here, then had the hotel, the grind-poi house."
"The water from the lo'i doesn't get to the ocean at this time," Carlos explains, "because there's soft sand, so by the time it goes a ways down the drainage canal, it just seeps into the ground."