Protesting H-3: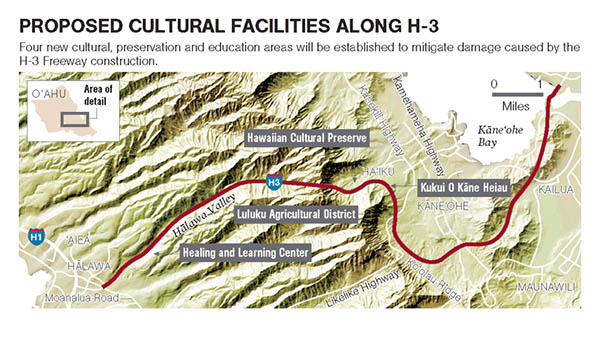 "Protest against H-3 started here with the Luluku taro terraces" Mahealani recounts. "Buddy Neller was the state archaeologist at the time, and I was a newspaper editor for Sunpress then. And I was friends with Caroline Sanchez, who with several other women were part of the Kāne'ohe Historical Society, but she was a banana farmer in Luluku and she was telling me stories about finding a konane board—Hawaiian checkerboard board—in the banana patches. And all these walls, walls it go on for miles and miles throughout the banana fields. And all the farmers knew about it. So when they were planning H-3, she came to tell me about it.
"So I enlisted Buddy Neller; I asked him about it because he was the archaeologist for the state. He went down there and he and I kind of looked at it and he said that that was one of the most extensive taro-terrace complexes that he had ever seen in Hawai'i—probably the largest in Hawai'i. Now they call it the Luluku Archaeological Complex, and they recommended it as a nominee for the National Register. But when the Bishop Museum nominated it, they did it as a 'discontiguous district.' Now 'discontiguous' means you can cut up the district into pieces. It was to allow the highway to cut through. And I said, 'Well how can you have an irrigation system that is discontiguous?' It's like having pipes that have no connections.
"That's what's on the record now. Some of us complained about it but they wouldn't listen to us, because Senator Dan Inouye was the power behind this highway and it was going to be built no matter what. They got OHA [Office of Hawaiian Affairs] to allow the highway to go forward in the mid-1980s, even though they hadn't completed a cultural impact study or cultural mitigation plan. They got OHA to sign a Memorandum of Understanding to allow it to proceed, and they would have the archaeologist do the work right in front of bulldozers.
"We went to OHA numerous times, and there was a man named Daniel Yanagita who is half Hawaiian, half Japanese. He lived in the Luluku banana-patch area, what they call Kapalai. It's right between the Likelike Highway and the Pali Highway. He told me and Buddy that Kukui o Kāne heiau was in the area. It was a large heiau, it had a thousand burials, and his grandmother was the caretaker. She was a kahuna and she had instructed him to take care of it was when she died. So he became the kahu for the heiau Kukui o Kāne. He told me that there were many burials there and his instruction to the DOT was not to dig with machines but to dig with hand shovels because there are many burials there. And Kukui o Kāne had these large terraces.
"The heiau was partially destroyed by the highway construction. It had already been damaged by the pineapple plantations, and during that time, the local people said that because the pineapple plantation damaged the heiau, the crop failed. It developed a disease and all of the crops on the Windward side failed. They had to pull out. A lot of the landscape throughout Kāne'ohe Bay region was altered by pineapple plantations. It was all carved up and used for pineapple plantings. So Kukui o Kāne heiau partially was damaged, but the walls were still there. There were rocks along the outside so you would know where the boundaries of the heiau were. It's right outside of He'eia.
"The building of H-3 had a major impact on He'eia because it goes through Ha'ikū Valley. Do you know what the Department of Transportation [DOT] did? They said that they're leaving Ha'ikū Valley out of the mitigation plan because the valley itself is outside the area of potential effect. So they did a mitigation plan with OHA that includes the Luluku banana patches, and includes Hālawa Valley, but does not include Ha'ikū. Talk about hewa [wrong]! That's why they have piliki [trouble] a too, ever since they signed the Memorandum of Understanding with the DOT."
---