Protestant Church in Kāne'ohe: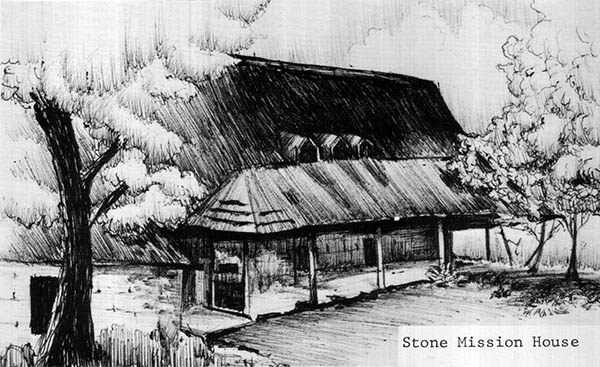 "King Kamehameha III—Kauikeao'uli—gave seven acres for a church to Benjamin Parker," Emalia recounts. "And the reason why we know this is the place is because in its history, there have been at least fourteen different name changes over the years and in our report, it lists all the names of the various kahu that had been here before.
"Parker came in the sixth company of missionaries with his wife, Mary, and I think they were looking for a place to establish their ministry. Whoever was in charge of where the missionaries were assigned then gave them this side of the island. But prior to all this, many of the ali'i used to own huge parcels of land, which is how we got this. High Chief Boki and Liliha used to come here and worship.
"It seems like Parker wasn't so happy right at first. People weren't so interested. They were trying to figure out who this guy was. And the people had no money. They couldn't pay for a minister, so a lot of food was brought—pigs, agricultural crops were brought, and even through the '30s and '40s, the minutes (my mother did a lot of translation) talked about how the morning offering was one big pig and I guess a whole bunch of mai'a (banana). And so after everybody left, the board would say 'What are we going to do with this pig?' So they made laulau, and pua'a kalua, then they were able to distribute to the families.
Read the reports from the Kāne'ohe Mission station, 1835-1862.
"When he first set up his hale pili [grass house] and tried to get people to come, they were more curious than they were interested. But he stayed with it. Then when their son Henry came along, he had a lot of rapport with the Hawaiians. He was at Kawaiaha'o for many years as its minister. They all grew up speaking Hawaiian.
"Henry Hodges Parker was the son of Benjamin Parker. He built a house here next to our property. And then they also owned the land at the corner, which is beautiful property.
"That property belonged to one of my cousins—they were staunch Catholics and they were members of St. Ann's, the other big church here (Catholic), so my cousin's family gave it up to the church, I think in lieu of cash. Now it's a retreat for the Catholics. Beautiful place... in a way that's Pa'ewalani the end of the road.
"The last missionary family that I remember being here was a haole gentleman, Reverend Henry Judd. He was the kahu here for 16 years. He came way after Parker them. Henry Judd was fluent and the church family here just loved Henry Judd. He stayed here 16 years and he came straight from Yale University.
"My grandparents loved him, my parents, my mother and her dad and them, they just loved Henry Judd because he wasn't 'high makamaka,' he wasn't that way. He was very humble. Just got in with them, because he spoke 'ōlelo Hawai'i, that was already the connector and he wasn't haughty. So they had nothing but the highest regard for Henry Judd. I just remember this tall, haole man, bald, used to wear a black robe and I was just a little kid but they spoke very fondly of Henry Judd. Henry Ranselear Judd, that was his name.
"I still remember this stately man," Leina'ala recalls, "very tall."
"In fact the Judds were the owners of Kualoa Ranch," Emalia continues. "That's all Judd's property, something like 500 acres. My grandfather, my mom's dad, he was from Kualoa but many of them lost their lands there.
"The building that we know of during the latter part of the '30s was still standing at the fork in the road. That was the Kāne'ohe Church. It was a New-England type building, green color with a steeple and it had a very old bell in it. The church was starting to deteriorate, which is why my grandparents were afraid that that bell tower would fall. This was in about the '40s or so, and they decided that they'd take the bell down first—which they did and we've preserved the bell. The bell is very, very old and that's a remnant of the old building.
"That building finally deteriorated, and our grandparents and the board negotiated with a cemetery business to build us a new building in exchange for cemetery land. Well the deal was to get a full acre of land for the church and they were going to give over six acres with a caveat that for every plot they sold, some proceeds would come back to the church. That's been a long-standing situation because of course things went belly up for previous owners. They cheated us. It's interesting how God takes care of us. My grandparents spoke Hawaiian as their first language, their only language, it wasn't English, and they trusted this one lawyer, a Hawaiian lawyer. And all four of those guys all died within the same year.
"About the 1950s they were able to get the cemetery guys to start building a building, but I think because they were cheating the church, it wasn't completed. So our own family and others in the church restored whatever there was here, built it and then all my brothers and cousins all did all the tile on the floor.
"The church was the center really of Kāne'ohe. The military would hold their meetings here in the church hall. It was kind of like everybody knew where Kāne'ohe church was—the 'Hawaiian Church,' they called it.
"Edward Kahale had been 50 years pastor of Kawaiaha'o Church. He came way after Henry Hodges Parker, so that's the order: Parker was there 50 years, Kahale followed. He retired from Kawaiaha'o in the '50s then he came here to help us. And he was helping other Hawaiian churches with no ministers. We were kind of a little association of our own. Now a lot of the grandchildren, the greats from my grandparents, the great-greats are all here. So that legacy pretty much continues.
"Sometime in the '40s, I believe, that's when the Atherton family gave the church a little organ. Harold Castle—another missionary family—used to be a big supporter of the church. Some of the missionary families still kind of kept watch over this little church. Even though the numbers weren't big, but its beginnings were very connected to them. So the Kāne'ohe church was well-known here. In the newspapers you see that a lot of functions were held here at the church.
"A lot of the congregation were old kama'āina families from Kāne'ohe. Lots of them, because this was the only Hawaiian Church in the area. Then the next closest one was at Hau'ula, towards the north shore. That's a really old church too. But there were occasions where Kahu Kahale brought all the Hawaiian churches together. My grandparents, my grandparents are in there too. They were called 'fishers of men' and so Kahu Kahale started this group.
"He had retired from Kawaiaha'o after 50 years there. He started as a young preacher in Kona and in the early 1900, I think he said, he was there. And then came to Honolulu, he became that pastor at Kawaiaha'o. There were no ministers for us at that time. So he took care of this church, there was one at Waimānalo, one at Papakolea—Waiolimu—one in Wahiawā, and then there were like seven of them with no kahu. So from Sunday to Sunday he would go to preach to each one of them, like he did on a Big Island.
"There were other people around: the Catholics were setting up after they got permission to stay, because they got kicked out earlier. But the Protestants, I guess Parker was very influential on this side of island for a long time. There's another Hawaiian Protestant Church at Hau'ula. It's very old too, small little church. Those Hawaiians come join up with us.
"Where we're sitting now is about a half acre and it used to be graveyard here. All of that was disinterred, taken out, and placed over in the new area across the street. They're only now filling in the area below us but a lot of the graves up here... my grandparents died in the latter '60's so even just before that, right after this building was built, that's when they started filling in more spaces here. That's our connection to the cemetery.
"But they really didn't get the land until the church itself made a bargain with them for a new church. We came out on the losing end, but that's okay, we say that's all right, we just pick up and move on and rebuild. So this has been a redo this one now.
"The bell is very old. It's a copper bell. The church had it in that church steeple for many years and then as the building started to decline, it was too dangerous. So my grandfather, in his wisdom, said 'We're going to take it down. But we're going to save it.' I'm happy they did that. We mounted it here so that the new church could ring it on very special occasions. Lately we've had Sundays where we observed the Ali'i's birthdays. We do that every month, usually there's one of the Ali'i birthdays so they're using more of the pū (conch shell) instead of the bell. But on this anniversary we rang it like one hundred times and it really carries, the sound carries far.
"There's a bit of variance on the date actually for the starting of the church. The land was actually given right after the Great Māhele, so it would make it between 1848, and 1849 but I saw early reports when Parker was doing work in the 30's. 1839, I prefer the older date.
"My mom was a very strong leader here at church. My uncles, my dad, my other Uncle Sonny, Uncle Joe, all of them were children of James and Josephine Hoapili—Hoapili is the name that really was continued through the years from the 30s through the 40s all the way till they died in the later 60s, and then Uncle Sonny and them died in the 90s.
"It was really Parker that started all of it from the missionary side. But we also have deep embedded roots on the kānaka side."
Emalia talks about the role of the church in her family here.
---