"The mountainside is not a difficult grade to ascend, and rather quickly we'd find ourselves in the forest. Certainly in times of old, the forest had a lower margin, so quickly we'd find ourselves in an environment that could supply additional material needs, like wood for housing as well as for fuel, thatch for housing, and other forest resources. So Kawaihae is well situated."
"Long before European contact, the middle slopes of that whole South Kohala, or leeward side, were one of the most productive agricultural zones," Sam explains. "That whole mid-slope agricultural system is really famous in the archaeological studies. In fact, even now they're revisiting some of those sites to try to figure out why a system as dry as that would have been so good."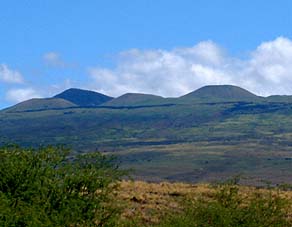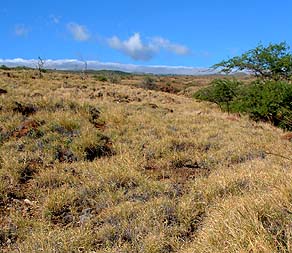 "They found that between certain rainfall conditions—not too wet, because if it's too wet, the rain leaches the nutrients out; and not too dry, because at too dry, you don't have enough water for agricultural—but in the middle zone, it was extremely rich. And each of those ahupua'a would have had a piece of that very rich agricultural zone, along with, presumably, rich coastal resources. These are the upland field systems of Kohala.
"In post-contact times it would have been Irish potatoes, grown up there. There was a lot of conversion of lo'i from kalo to rice and from sweet potato to potato. But it's quite clear that a lot of those field systems are much older than contact days. It would have been dry kalo and 'uala."