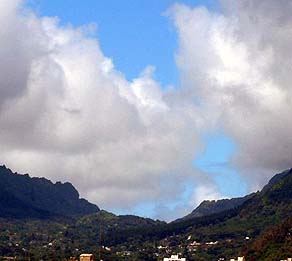 "Another thing that Umi-a-loa was famous for was his battle with the gods," Fornander records (1916, IV: 230). "The cause of this battle was in this way: His royal consort, Pi'ikea, had supernatural grandmothers, who were Hapu'u and Kalaihauola, and who desired to have a grandchild that they might take it to O'ahu to bring up, because the mother of Pi'Ikea, Laielohelohe-ikawai, belonged to O'ahu...."
"As they returned to their house, he (Kamapua'a) resumed the form of a man and went to Milolii," writes Kahiole (1861). "He picked up a large stone and tossed it by the side of the spring, Kanepuna. He continued from there until he arrived at Leleo. He turned his face toward Nuuanu and called to Hapuu and Kalaihauola, 'Grant life to Kekeleaiku, the beloved child of Olopana."
"When you have passed mauka [upland] of this place," Po'oloa (1919) writes, referring to Ka-hau-komo, "the noted spots are many and closer together. Hapuu and Kaleihauola are supernatural stones on the Waikiki side of the road. In front of us are Ka-ipu-o-Lono and Kapili, which are two hills."
An article in the newspaper Kuokoa, "Huaka'i Pokole, Koolau"(1896) says, "When we reached the elevation that led to the top of Nu'uanu, my companion who was wise in the use of words said, 'Say, below this place is the home of the famous chiefesses of this mountain fastness, Hauola and Hapuu. These were supernatural women.'
"I saw them on the edge of the cliff by the old government road....Right above a grove of hau trees are two stones. One is a long stone, with back nicely smoothed. It is about three feet long. The other is more rounded with corners. The long stone is towards the lowland and the other is towards the upland. The one on the lower side is Hauola and the one farther up is Hapuu...."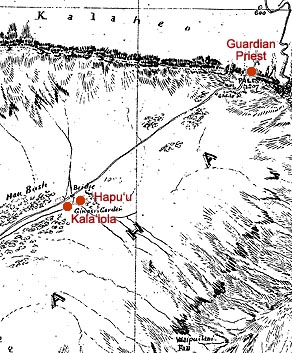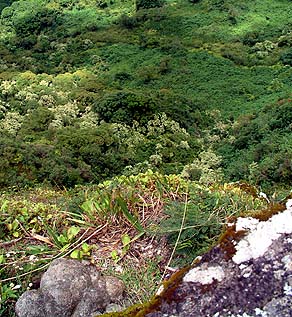 "Within a few yards of the upper edge of the pass, under the shade of surrounding bushes and trees, rude and shapeless stone idols are fixed," wrote British missionary William Ellis (1831: 15), "one on each side of the path, which the natives call 'akua no ka Pari', the gods of the precipice; they are usually covered with pieces of white tapa, native cloth; and every native who passes by to the precipice, if he intends to descend, lays a green bough before these idols, encircles them with a garland of flowers, or wraps a piece of tapa around them, to render them propitious to his descent; all who ascend from the opposite side make a similar acknowledgment for the supposed protection of the deities, whom they imagine to preside over the fearful pass."