"The Japanese never built a bridge there. But the local people were dreaming about filling that channel so they could cross easily. Even when my father was alive, they were thinking that, well, we have so many big rock mountains, like the Rock Islands. If we could just bomb them and just fill that channel over there, then it would solve the problem. In those days, local residents were ferrying people from one side to the other side, using boats to Koror.
"That channel is actually really hard to cross. I guess some people trying to swim across drowned and died going over. When the tide is going either in or out, the current is very strong. Especially after the Japanese built the causeways from both sides, that made it a little more narrow, so the current is even stronger today.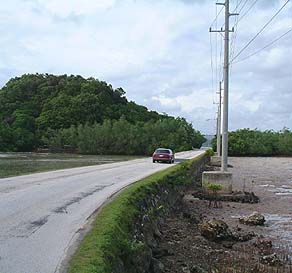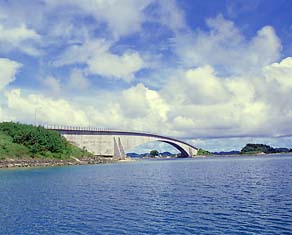 "That channel is also known for the blue shark—we call it metál. There are times of the day, and of the year, when they come closer, this bunch of them, and then they just attack anything that goes there.
"We have this story about Yapese, who were in these islands a long way back. The way they tell it, this group of Yapese went over to the channel to cross it. And one of the guys from the group, he had all kinds of open sores on his skin. He was like a leper, or had some kind of skin disease. So they decided, 'well, we are going to let him go first.' They said, 'he would go first and if the sharks get him, then we know, it is not safe, so we'll just cancel the crossing.'
"So this guy, he went in and just swam across. And the salt water and the swimming action just washed all his sores clean, and spread that debris all over the area and created all kinds of smell for the sharks. But he made it across. And then one by one the others start going down saying, "well, its safe," and they start swimming across."