"I remember in the village, almost everybody dug wells. Then when you hit the salt water, you stop. But they would line rocks down there so that we can get to the water. That well water is primarily for washing clothes or washing pots and pans. We hardly drink it because it's saline, though it's less salty than the ocean water. So we normally don't drink it."
"The drinking water actually comes from the rain. Most of our water supply that drains out into the lagoon actually comes during the rainy season. We collect a lot of rainwater through rain catchments, and we use barrels. I have three rain catchments in this house. A lot of people have catchments."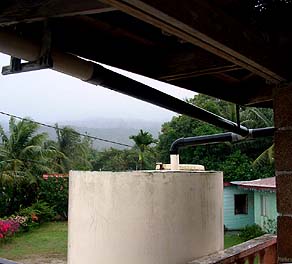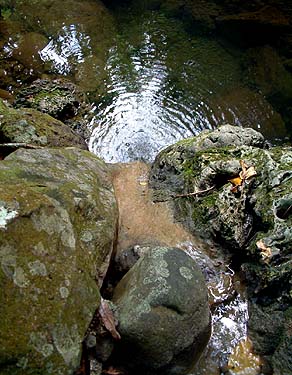 "We've used a lot of containers that were dumped by the military, not knowing what they contained earlier. I remember, one time, we had this container, it was lined with lead, and we would collect water and drink out of that. Little did I know that lead is a very toxic element.
"The military would have all this lead-covered metal equipment, I guess for radioactive material like for x-ray, and some people found that to be very useful for drinking containers for their cattle, and later on down the years, the cattle were dying. Maybe because of lead poisoning, we'll never know."

Cool waters of the upland stream.