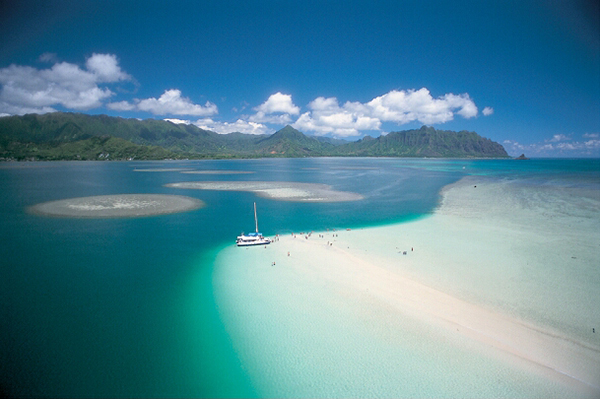 Ahu a Laka. Photo by GeoGerms.
"On the southwestern side of the barrier reef enclosing the lagoon of Kāne'ohe Bay is a mile-long sand bar which becomes an island at low tide," Dennis writes. "When we were kids, my father would anchor there on our way back from fishing trips around the bay to let us swim and play in the shallow waters; today entrepreneurs transport tourists to the sand bar to rent them jet skis, wind-surfing boards, and snorkeling equipment. On modern maps the sand bar is labeled "Ahu o Laka," translated "Altar of Laka" (Pukui et al Place Names ). An alternate name, 'Āhua a Laka, "Sand Bank of Laka," is suggested in a chant about Laka (Kamakau, Tales 145-146):
[Laka] died at Kualoa.
To Mokoli'i, to Mokuahukele ["Island Mud Heap"],
To the pooled sea at 'Apua [a fishpond of Kualoa], the calm sea;
To Makami there in Wai'ahole,
To Hale'ula [Laka's house site] there in Waikāne,
To Hakipu'u, to Kualoa,
To sea, to Ahua-a-Laka ['Āhua-a-Laka],
Laka-a-Wahieloa was taken;
Taken by Lu'anu'u [Laka's son].
By Lu'anu'u he was taken to the island
To the ancestral homeland, Maui
['Āhua: To swell, as a wave; heap, mound, hillock, knoll, pile; heaped, humped; tremendous. 'Āhua one, sand dune, sandbank.]
"The chant, seemingly a mere listing of stops in a journey of the spirit home, is a verbal map which may have also served as a device for remembering narratives explaining the significance of each of these places in the life of Laka. (Hawaiian chanting is an art of allusions to places.) Kamakau, in another version of the story, says Laka died at Ahu-a-Laka: 'When Lu'anu'u came, he took Laka to Waikāne and shortly before his death to Ahu-a-Laka where Laka died. That place is called by his name to this day.' Laka and Luanu'u appear 33 and 34 generations after Papa and Wākea, in the genealogy of 'Ulu, from which ruling chiefs of Hawai'i Island and Maui trace their ancestry:
1. Wākea and Papa
....................................
14. Ki'i and Hinako'ula
15. 'Ulu and Kapunu'u
....................................
29. 'Aikanaka and Hinaha naiakamalama
30. Hema and Luamahekoa (or Ulamahehoa)
31. Kaha'i and Hinaulu'o hi'a
32. Wahieloa and Ko'olaukahili
33. Laka and Hi ka waelena
34. Luanu'u and Kapokulaiula
"The chief Laka was born in Kīpahulu, Maui (or some say Hilo, Hawai'i). Kaha'i's grandson, Laka sailed from Maui to Hawai'i Island to find and retrieve the bones of his father Wahieloa, who had been captured and killed by a cannibal woman named Luahine Kaikapū, his bones deposited in a cave called Kaualehu, at Kōloa, in Punalu'u, Ka'u . (Bones, like eyes, were associated with mana; specifically, mana resided in the bones, the most durable body parts, after a person's death; bones were hidden for fear that they would be stolen by an enemy and made into fish hooks.) Laka tricked Luahine into opening the cave, then killed her, found his father's bones, and brought them back and buried them at Papa-ulu-ana, Kaumakani, in Kīpahulu, Maui. Laka's canoe was also left at this site.
"Laka received help from his ancestors to carry out his quest. Laka's canoe was built by his divine relatives Mokuhali'i and Kupa'aike'e, gods of canoe-building; and when he went to get his father's bones he was accompanied by seven mākua ("parents," "benefactors," "providers"), including father Searcher (makua 'I'imi), who found the secret cave; father Prop (makua Poupou), who kept the mouth of the cave open, and father Stretch (makua Kiko'o) who reached into the cave and retrieved the bones. These mākua personify ancestral abilities, specific kinds of mana. Apparently, after his successful quest to retrieve his father's bones, Laka moved to O'ahu, settled in Waiakāne, and left his name on the sand bar in Kāne'ohe Bay.
"The chant above records his son Luanu'u's journey to transport his bones back to the sacred burial site in 'Iao, Maui, the island of Laka's birth and the home of his ancestor 'Aikanaka, of Hāna. The son of Laka and Hi ka waolena, a chiefess of Kaua'i, Lu'anu'u grew up in his mother's homeland and came to O'ahu when his dying father summoned him."
"Ahu-a-laka was named after the voyaging chief Laka," Rocky concurs. "When Laka the voyaging chief died, his sons came across Maui—he died in Maui—to find a place to bury him, where no one will find him. They came across the islands, and then they came across this one island in the middle of the bay, and they figured that would be a safe place to bury their father, which they did.
"That commemorates a sacred place to us once you do that. And then also had an ahu there. But through the years, there's also Laka, the hula goddess. The hula hālau here or hau o laka, they would go out there and they would be worshipping. That's okay, but you can't do that, not Laka, the hula goddess. And my grandmother and her sisters, they danced out there.
"Why they did this is because dancing on the sands was good for your foot movement. In fact, there's stories that say when Kalākaua came in to Kāne'ohe Bay, my aunts were out there dancing, entertaining, on Ahu-a-laka with their hālau. That is why Ahu-a-laka is still sacred to us, no matter what.
"There's always sand on the sandbar. In fact, my father told me at the highest tide, there was always an island. In fact, at one time, there were trees there, he said, at the highest tide. But through the years, Kamehameha Highway was built, they siphoned sand from there. To enlarge Coconut Island, they siphoned the sand from there; to replenish Kualua Park, they siphoned sand from there. They closed it down for us to go there for months because they were siphoning sand, but they just should've left it alone, because it's sacred to our people."
"Back in the day, my dad said the sand bar was an island," Hi'ilei recalls, "high, like a mound of sand that on even the highest tide would never be covered. They would go out there and they would camp. They would sleep on Ahu a Laka and there was nobody around. And you knew everybody up and down Kāne'ohe Bay.
"And now you go out there, we don't even go there anymore because it's just completely overrun primarily by transient people. A lot of military folk come out, but also people that aren't from this side of the island trailer their boats, and launch, and enjoy going out there for the day. And people from this side too, but it's just a zoo. It's full of people that want to go out there and drink beer, and not do much of anything other than drink. So, we don't even go there. It's only ever above water on a negative tide. And it's not like a mound; it's just flat sand."
"Ahu a Laka, they call it a sandbar," Mahealani says, "but it's really the remains of what was once an island. And the Chief Laka, centuries ago lived on that island, and he even was buried on that island. Ahu a Laka is the 'altar of Laka.' Laka was also the name of a goddess. So many hālau hula have gone to Ahu a Laka to perform their hula before giving a public performance. It was sort of like the offering to the goddess Laka for her blessings, for when they did their hula. So it has a dual cultural value to us."
---