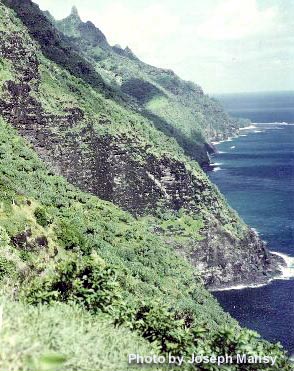 Beyond Ha'ena, the Na Pali Coast, with its cliffs plunging into the sea, has many beaches and sea caves. Photo by Joseph Mansy, courtesy of Kathleen Ann Goonan.
"Come and Eat"
Caves are prominent features in the Ha'ena landscape. Carlos relates the following story, set in one of the many caves along the Napali coast, near Ha'ena. In this story, Pele is passing through the area near one of these caves:
"This story takes place in a cave along the Na Pali coast. There are caves still like this today--lots of them--cut out of the cliffs by the sea. In this story, there is a large cave and a lot of people living in it. At the time, these people had just brought in a large catch of fish, and are cooking them. Pele is wandering down the coast and seeing them, goes in to the cave and asks them for some fish to eat.
"But they deny her the fish. As she's walking away from them, on the outskirts of the cave itself there's an old man and he's cooking fish for himself and his grandchild. And as Pele walks by, he calls her to come and eat with them. His invitation is the most pono Hawaiian behavior: whenever your see someone pass by, you call to them to come and eat, and even if they don't respond or say 'no, no thanks,' it is your obligation as a host in Hawaiian culture to invite a stranger to come and eat with you."