"Then she began following the wahine up the cliff, and when she looked back and saw that her lover had been killed, she lost fight, and so she actually turned around and came down, and Kilioe killed her up there on the ridge. Then Kilioe went back to the halau.
The next morning, to her surprise, a fisherman ame up to see her, knowing that she was a high priestess, closest to Laka, the goddess. And Laka is not only goddess of the hula, but goddess of the forest, and of the wild growth and the plants. So he came to see Kilioe, because to his amazement, every morning he went down to this point to go fishing, and this morning when he came down, there was this new plant that he had never seen before, growing there. And he brought this plant and showed her, there was this blossom on the plant. And indeed, Kilioe had never seen it either."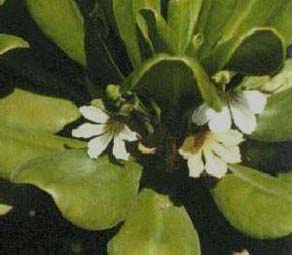 Naupaka kahakai. Photo by Burt Lum.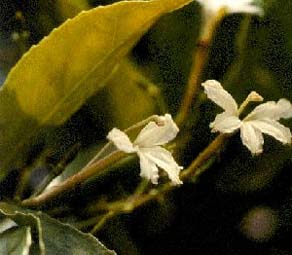 Naupaka kuahiwi. Photo by Burt Lum.
"That afternoon, a birdcatcher came down from the mountain, and he climbed down the ridge from Lumaha'i, and he came to see Kilioe, because as he came down the ridge, which he had traveled often, there was another plant, that he had never seen before, and he brought it to Kilioe. And when she looked at it, and she saw the half-flower that matched the one that the fisherman had brought, she saw that when they went together, they made a perfect match.
"At that time, she realized what had happened, and that Laka had turned these students into plants, and she realized that Laka had released them from their vow, and that she had blessed them, and that Kilioe had really acted improperly in punishing them for what she perceived to be breaking of the kapu."