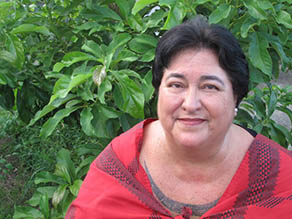 Lilikalā Kame'eleihiwa:
"I am a senior professor at Kamakakūokalani Center for Hawaiian Studies at University of Hawai'i at Mānoa. We are part of the Hawai'inuiakea School of Hawaiian Knowledge. I've been a professor for 30 years, and have written 23 courses that had never been taught at the university before. So that makes me happy. I have a few more to write.
"I love teaching courses in Hawaiian mythology, in which we look at the 400,000 akua or divinities as elements. It's kind of like a STEM course because we're looking at the elements of the universe. I also love teaching genealogy which is a course on the 100 generations of Hawaiians here in Hawai'i for the four major islands and our interactions with Tahiti and back.
"I live in He'eia and I've been living here for 23 years. My mother and my grandmother lived in Kāne'ohe nearby. We moved from Kāne'ohe, to down the coast line to Ka'a'awa, and then Punalu'u, and Kahana. But my mother worked in Kāne'ohe so we always had to come back through this area. I went to school in Kāne'ohe when I was little, and my grandmother was the first person to move to live in this area. Before that, my family is from Hana Maui and we've been there in Hana Maui for at least 20 generations. In the Kāne'ohe-He'eia area, maybe about the last three or four generations. Since I have my grandchildren living with me now, five generations I guess."
Kalani Meinecke: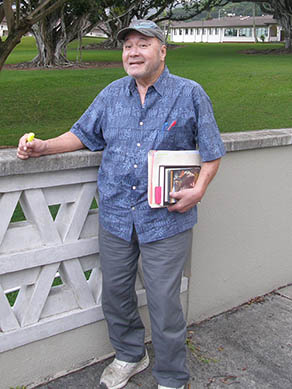 "My full name is Fred August Kalani Meinecke. My paternal roots, which I feel very close to, are in Ka'ū, and my maternal roots are in Maui. I was born in Honolulu and reared at Waiau, on the shores of Pearl Harbor, to the age of twelve. Then we moved to the San Francisco Bay area and lived down the peninsula in Palo Alto, Menlo Park, for ten years. High school was there, and then to San Jose State briefly and then to U.C. Berkeley. There I majored in anthropology and linguistics.
"I was graduated from U.C. Berkeley and came back to Hawai'i to plunge into studying about the Pacific. At that time I was very privileged to study with Dr Samuel Elbert on Hawaiian language and Hawaiian and Pacific linguistics, and to get to know Tūtū Kawena Puku'i, my grandmother's cousin. Tūtū Puku'i was a very, very warm and receptive.
"I was at U.H. Mānoa for four years and at that time got to know Rubellite Kawena Johnson very well. We worked together on a number of projects. And Abe Pi'ianai'a, who grew up with my mother in Mō'ili'ili. Getting to know so many kūpuna at that time was really educational. And then I went to the University of Illinois for two years to study the new linguistics—transformational, generative grammar. And then to Indiana University and studied with Dr. Carl Voegelin. So my interests include all parts of anthropology, linguistics, and folklore, and so much more. I almost majored in music!
"I came back to Hawai'i and was offered a position at the University of Hawai'i at Hilo, so I taught there: Hawaiian language, Hawaiian Studies, Linguistics, Ethnic Studies. And I was glad to be back on the Big Island. I was there for seven years and then was invited to teach at UH Mānoa, so I went there, and then from there, here to Windward Community College. So I am still teaching. I should have retired a long time ago! I am very much a researcher—and a searcher—for knowledge and truth."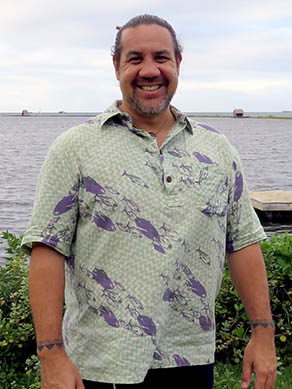 Keola Chan:
"I am currently the executive director for a non-profit called 'Aha Kane Foundation, the advancement of native Hawaiian males. o my work focuses on healing those facets of our Hawaiian kāne in our community. In our community, it's not what you think you are, it's what the community tells you you are, to them. The cultural practice I am known for is lomilomi, which the closest translation would be 'Hawaiian massage,' but it's so much more than that. It is the physical manipulation of the mind, body, spirit of the individual. I have background in other forms of traditional healing, but that is the one that the community has demanded that I do and fulfill.
"I was born and raised on the island of O'ahu in what is considered Hawaiian homestead in Papakolea. I would it's say that's probably the more urban setting of our Hawaiian homes that we have here on the island of O'ahu. We were one of the first families that were granted land as Native Hawaiians in that homestead. That's where I grew up.
"I was supposed to go to public school right down the road, at Roosevelt High School. My family all went there, my mom, my sisters. I ended getting into private school for sports, University High. And somewhere around my sophomore year, I grew up in a Hawaiian community but never really connected, I would say. It was after sophomore going into junior year summer, I was exposed to cultural practices, which was around hula and music. That really started my pathway into learning more about my identity and the challenges that I saw around me in my communities, not really fully understanding but starting to really look at myself first. It took me off onto this on whole path."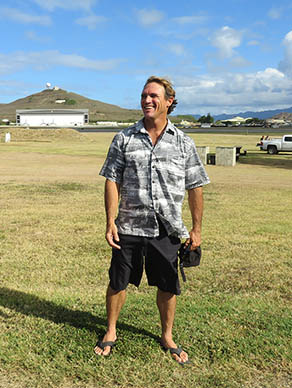 Ian 'Akahi Masterson:
"My family integrated into Hawai'i long, long ago as Portuguese immigrants on the first several ships that came from Madeira island. I grew up in Ko'olaupoko, and lived for many years in the house where Obama actually stays when he was coming here during his presidency at Castle Point in Kailua, Pu'u Nao ("wave-cut hill") and Kuahine ("older sister") being the surfing site off shore there.
"I've lived from Kailua-Waimānalo and moved out to Hakipu'u in the Kualoa area about a dozen years ago, 2004. Came up Punahou, a 1989 grad. And then went to U.S.C. for a year and came back home—my mom actually got cancer so I came home to care for her.
"I went to Windward Community College. That's where I met kumu Kalani Meineke, who inspired me in looking at surfing as a traditional Hawaiian cultural activity. I started a program that's been running there at Windward, a Surf Studies credit program, and what's come to be known as a Hawai'i Ocean Education Academy, offering experiential education: licensing and training for lifeguards, jetski operators for the state and many other things.
"I had been a lifeguard at Kū'au—Pyramid Rock—for many years, and one of the jet ski operators there. For ten years as a guard but the first five years on the beach every day as a rescue watercraft operator. Jamie Lee Curtis dubbed me the 'surf professor' many years back when I took her family around."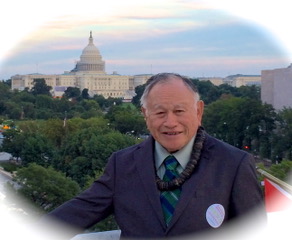 Chuck Burrows:
"My full legal name is Charles Pe'ape'a Makawalu Keku'ewa Burrows. My Hawaiian family originally is from the Kailua area, particularly on my Hawaiian grandmother's side, as a descendant in Kailua. When I was first born, I was hanai'd [adopted] by my Hawaiian grandparents, Carolyn and Charles Keku'ewa. That's where the Keku'ewa comes in. The Hawaiian name that my grandmother gave to me is Pe'ape'a Makawalu, a Maui ancestral ali'i [chiefly] name in the family for years and culturally significant not only in Hawai'i, but throughout Polynesia. Pe'ape'a refers to the endemic hoary Hawaiian bat. Makawalu is 'eight eyes.' In the mo'olelo, legendary stories, it is the eight-eyed, all-seeing bat. It is also significant in the Māori culture of Aotearoa [New Zealand].I'm proud to have that name handed down to me.
"I was born at my grandparents home on School Street in the Nu'uanu ahupua'a. When I was born as the first child, I was hanai'd by my Hawaiian grandparents. I'm half-Chinese, quarter-German, quarter-Hawaiian. We would travel from Nu'uanu to Kailua, especially to the kuleana properties that they had in Kailua. My grandfather became the gatekeeper at Mōkapu in the 1930s for Kāne'ohe Ranch, and we had a beach cottage where Fort Hase Beach is now located, below Ulupa'u Crater. We also had kuleana property very close Ka'elepulu Pond (now called Enchanted Lake) on the banks of Ka'elepulu stream that is now a bend in the Wana'oa road.
"When my grandparents passed away, I was adopted David and Harriet Burrows, that's where the name Burrows comes from. After graduating from Kamehameha SChool for Boys in 1951, I enlisted in the Coast Guard during the Korean War. After my enlistment, I enrolled at Linfield College in Oregon, earning a BA in biology, chemistry and ecology. While teaching in Beaverton, Oregon, and later at the Kamehameha SChools, I completed from Oregon State University a Masters in Education and a Masters in Science focused upon the environmental sciences. Later, from 1970-3, I completed the Doctoral degree in Science Education with a major in computerized instructional technology.
"Throughout the years of my science-teaching career, I incorporated in my instructional curriculum and activities the scientific process of the natural world with the cultural resources. I consider the spiritual and theological concepts of Hawaiian and interfath beliefs of Caring for the Honua and all of Creation as important elements in environmental science education."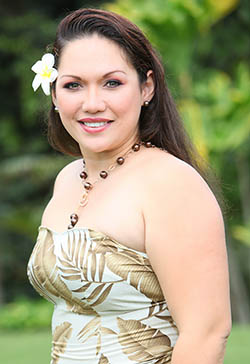 Keola Dalire:
"I am from He'eia, Kāne'ohe Hawai'i. I am a kumu hula of Keolalaulani Hālau 'Ōlapa O Laka. I am 8th generation kumu hula and that's pretty much where all my experience comes from—family teachings, my upbringings, being immersed in not just hula but in Kāne'ohe. You can't get me out of here. Kumu is being the teacher, being the source. I was fortunate because I was born into it, because I was a daughter of a kumu. You know, there's really no choice for me, even though I know I would have never made a different choice. Once my kumu became my kumu—and it wasn't just my mother—there was no wavering, there was no question of where I would be.
"My mom recognized the potential in many of her students from a very young age and she would hānai them. She treated them like her own children, and they would grow up and they were raised around it, and they lived hula. And ironically, a lot of these students nowadays are Hawaiian language teachers, or Hawaiian culture teachers, and they've begun to make an impact. Yes, some of them went on to different hālau, but they continued to learn what my mom had planted in them. And I think three or four of our students are Hawaiian language teachers specifically up at Kamehameha Schools."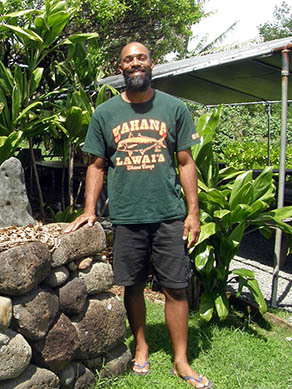 Keli'i Kotubetey:
"My full first name is Keli'iahonui, born and raised until I was eight years old at Kawela Bay on the North Shore, next to Turtle Bay. My family is originally from the North Shore of O'ahu but our roots are kind of widespread here on O'ahu, from Nu'uanu to Kalihi, but then our family roots also go back to Hilo area on the Big Island and Moloka'i and that's my mom's side. And then my dad is from West Africa, from a country called Togo. They met in the Peace Corps and I am the product of the two of them. My dad's family tree and heritage is all from West Africa, which I've never been so I'd love to go.
"When I was 8 years old my family moved to Kailua. I spent my formative years in Kailua, went to Kamehameha High School, graduated from there in 1996, went to Whitman College in Washington State until 2000. Got my Economics Degree, minor in Environmental Studies. As soon as I came home from Washington in the summer of 2000, I had some friends who were interested in volunteering here at the fishpond. And one of my friends was dating the woman who would eventually become our first Executive Director of Paepae o He'eia, a very instrumental, charismatic, thought leader in what this place could become. Her name was Mahina Paishon.
"I wear two hats, I'm the 'Āina Momona Coordinator so that's kind of our production program that looking at the resources that we have at the pond, both edible—like fish, crab, limu, oysters, anything that we can eat—and non edible, so mangrove, any other types of wood, banana stumps, whatever we have here at the fishpond that can be given, gifted, or sold is a resource to be shared. So production is kind of just the short one English word that we use for that program but 'āina momona really captures it better. The program just strives to make the fishpond and its surrounding environment more healthy and productive. And then looking at ways that we can again share gift and sometimes sell those resources to help our organization run. So that's one hat that I wear, so about half halftime is 'Āina Momona coordinator, the other halftime is Assistant Executive Director, just doing a lot of the administrative and boring stuff."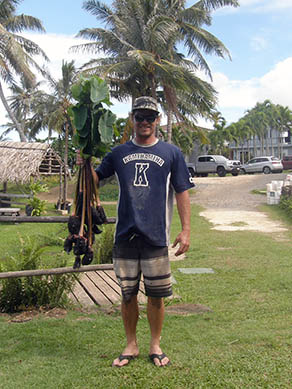 Keahia Pi'iohi'a:
"I was born and raised in Kailua. My first introduction to He'eia fish pond came through Kamehameha Schools, who is the land owner of this fish pond right now.
"At this fish pond, being here for about five years, we came to the point where we named these hale, and we gave this first hale the name Hihimanu. That has something to do with being introduced to this place, because hihimanu are eagle rays that are out there and very present in the bay.
"But 'hihi' can also mean 'to ensnare, to entangle,' to captivate somebody's mind. And if you've ever been to this fish pond and you come to our office site and walked out, and get the first glimpse of 'Oh! There's a mākāhā here, this must be something important.' It's a way to get you started. It's that ensnaring of people who come to this place, and that definitely happened to me the first time I saw that mākāhā in particular. Just thoughts going through my mind, like 'Wow, they really put some time into this and some thought.' It was that little igniting of ideas, of just questioning why did our kūpuna do this? What happened? I definitely was 'hihi' and I was ensnared into this place very quickly."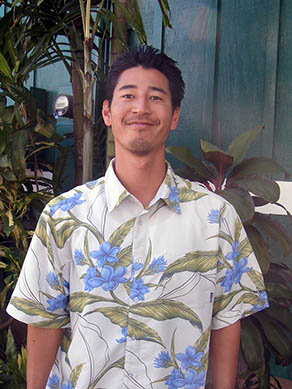 Kamaka Jingao:
"My name is Kamakanuiaha'ilono Jingao. I grew up in Kapahulu, on the island of O'ahu. And I currently reside in Kailua. I graduated from Kamehameha Schools and went away to college in Oregon at Portland State University. I moved back home and have been studying Hawaiian healing and wellness for about eleven years now. For the past three years I've been the Luna Ho'okele of Hui Mauli Ola, a nonprofit perpetuating Hawaiian Healing and wellness.
"I've been blessed that I had an array of kumu that I studied with. Like they say, 'When the student is ready, the teacher appears.' There's been a lot of different kumu in my life. I've had the opportunity to study with great people. Many of them have already passed. Some of them are still alive. I'm grateful for the opportunities that came up through those teachings.
"For the past two and a half three years we hosted this event, Mauli Ola Wednesdays, where we gather every fourth Wednesday at Papahana Kuaola to bring the community together and talk about different aspects of Hawaiian healing and wellness. We brought in guest speakers and the community. Papahana Kuaola is always gracious to provide the gathering space for us to bring the community together and talk about these important issues. I got to spend a bunch of time up there, sharing the space with the community and bringing in presenters to talk about our traditional practices."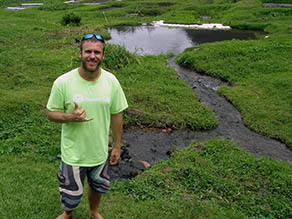 Nicholas Needle:
"I'm from Baltimore, Maryland. I've been in Hawai'i for 13 years now. My position here at Papahana Kuaola is the program manager for our 'Ili'ilikauhale program. Our program is mainly in charge of restoring and maintaining the natural and cultural resources here at Waipao.
"This includes farming the lo'i kalo and the mala, native plant reforestation, invasive species management, upkeeping our facilities, as well as hosting and managing the service-learning groups that come volunteer. We work with kids of all different ages and teach them hands-on about working and taking care of this 'āina."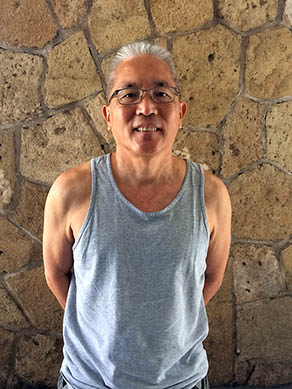 Dennis Kawaharada:
"I grew up in Kāne'ohe in the 1950s and 60's and went to Ben Parker Elementary and Castle High School. My grandparents emigrated from Japan to Hawai'i during the early twentieth century. My maternal grandfather established a store in Hilo and my paternal grandparents started a restaurant-store in Kuiaha on Maui to serve communities that had developed around sugar and pineapple plantations in those towns. My parents moved to O'ahu after World War II because that's where the jobs were. They started our family in a rented house on Kea'ahala Road in Kāne'ohe.
"After I went to the UH and to graduate school in Seattle, Washington, I got a job teaching at Kapi'olani Community College. When I started looking for reading material for local students, I realized how little I had been taught or had read about the traditions of Hawai'i, about the places where I grew up. I began doing research on what place names meant and on traditional and historical events that took place in Kāne'ohe and elsewhere in Hawai'i.
"Although many traditional stories had been recorded, translated, and published in the late 19th and early 20th century, not much was taught or read in schools, and many of the publications were out of print. As a teacher, I felt the traditional stories needed to be back in print so they could be read by our students. I established a press to publish some of public domain stories. One collection called Ancient O'ahu includes stories from different parts of O'ahu, including Ko'olaupoko. Once the worldwide web got going, I realized that the stories could be made more accessible and free if they were posted at a public website, so I created a website at Kapi'olani Community College calledTraditions of O'ahu: Stories of an Ancient Island.
"My interest in the voyaging traditions of Kāne'ohe Bay came from my work for the Polynesian Voyaging Society [PVS] in the 1990's. I served as a researcher, curriculum developer, and website manager for PVS. The bay was significant as the birthplace of the voyaging canoe Hōkūle'a, which was launched in1973 in Hakipu'u at its border with Kualoa. The reason Hōkūle'a was launched here was because of the traditions of voyaging chiefs from Tahiti landing and living in the fertile, water-rich lands of the bay, which also had its fishing grounds and a protective lagoon and beaches for anchoring or bringing canoes ashore. Traditional stories connect the bay with such famous ancient voyaging chiefs as La'amaikahiki, Kaha'i, Paumakua, and Laka."
Father Herman Gomes:
"I was born and raised in Hawai'i. My folks moved to the Kāne'ohe area when I was two years old, so St. Ann has been my parish for the last 62 years. I was an altar boy at this church, ordained a priest in 1978. I served in other places and eventually wound up back here in residence about 18 years ago.
"At that time I was teaching in Chaminade University, and then I've been pastor here at St. Ann for the past 12 years. Gomes is a Portuguese name, I am three-quarters Portuguese, one-quarter Filipino."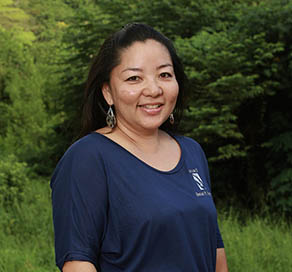 Meahilahila Kelling:
"I'm currently the director of Ke Kula 'o Samuel Mānaiakalani Kamakau. I am from Makakilo originally with my 'ohana and had moved to 'Ioleka'a, He'eia in 2003 with my family. At that time, I had already started as a teacher here at Ke Kula Kamakau, teaching kindergarten and first grade. And when our past director had taken another position, both Kameha'ililani, the current principal, and myself stepped up to become co-directors. Right now, we are serving as director and principal with two different kuleana—sets of responsibilities.
"I also am a parent here at this school. I have three children. My oldest graduated from Kamakau in 2018, so it's a full journey starting from Punana Leo to graduating from a Hawaiian immersion. My middle child graduated in 2019, and I have a baby, my youngest, will be going into 7th grade."
"I started taking Hawaiian language classes while in my hālau hula. I have been dancing since I was four, but never had the 'i'ini or the drive to learn until I was in high school, when you're dancing to songs that you don't necessarily understand. That's what compelled me to start learning, and then I continued at the University of Hawai'i at Mānoa. My bachelor's is in Hawaiian language."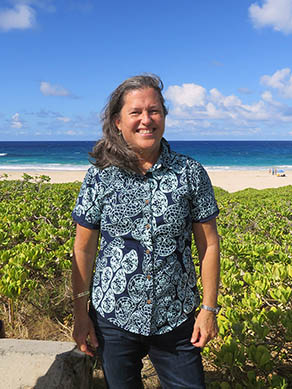 June Cleghorn:
"My name is June Noelani Johnson Cleghorn. I was born on O'ahu, raised mostly on the Big Island. My mother's family (Kahalewai and Kailimahuna) is from the Big Island, both Ka'ū and Kohala. I am an archaeologist by training. I was hired by the Marine Corps, Department of Defense, in 1996 as the cultural resources manager to manage the cultural resources on all Marine Corps properties in Hawai'i.
"I've been here since then, and a lot of the requirements are to find descendants of the early people who would've been associated with the early sites out here. And so, that's what I've been doing for more than 20 years now.
"The Mōkapu Peninsula is very significant, held very dear to the families whose ancestors came here. Part of Marine Corps Base Hawaii's mission is protecting historic properties. And so, that's what I do. I manage the program for them, and part of that is making sure that I can give as much access to descendants of the ancestors who lived here. The Department of Defense puts millions of dollars into protection of historic properties, so these lands are here for that. I take that seriously, and it's good for everyone."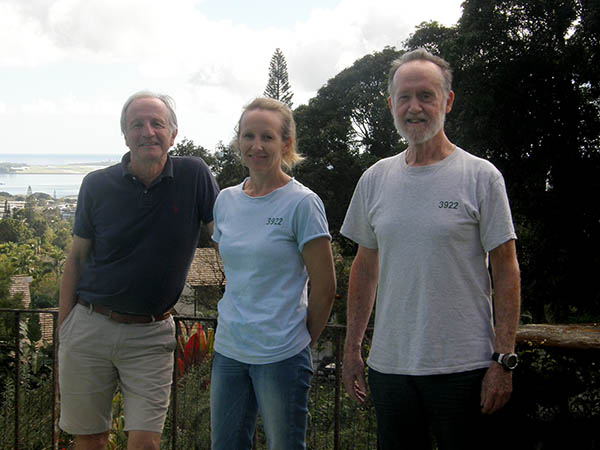 Vernon Ansdell:
"I'm a semi-retired physician and I'm president of the Friends of Ha'ikū Stairs. I'm originally from England, came here about thirty five years ago now, and I've been actively involved with the friends of Ha'ikū stairs probably for about five years. I've Climbed the stairs many times first time I climbed was soon after I came here, so almost thirty five years ago. We're nonprofit, and our mission is to preserve the stairs for future generations and make it accessible to the general public and exploit the educational, cultural and recreational opportunities that are there."
Holly Sevier:
"I'm a graduate assistant at U.H Mānoa, doing my PhD in Sociology. I got involved with the stairs through an urban planning film project I was working on, and I had the fortune to meet John and then he got me involved with the group. So I've been on the board for seven-eight years. I've climbed the stairs a number of times with the group, on maintenance days."
John Flanigan:
"I'm a retired college teacher—retired for twenty years. I taught at Kapi'olani Community College. I've been involved with the Ha'ikū Stairs for a very long time, since close to the start of the effort to get it reopened. We haven't quite made it yet. I'm originally from Indiana. I've been here for thirty four years."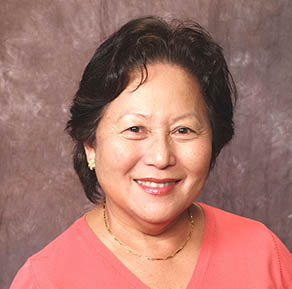 Jo-Ann Leong:
"I was born and raised in Hawai'i, in Palolo valley and then Kapahulu, and I went to public schools for my early education. I graduated from U.C. Berkeley, got my PhD at UC San Francisco Medical School in Microbiology, and was professor, department chair, and distinguished professor at Oregon State University when I took the position at the Hawai'i Institute of Marine Biology (HIMB).
"My time at the institute was only 13 years, and I've been gone for almost four years now. Our book on Coconut Island was funded by Steve Pauley and his family, and Christian Klieger asked us to participate in the writing of a chapter. I co-authored a chapter on its modern history with Phil Helfrich, a former director of HIMB.
"My connection to Kāne'ohe and He'eia dates back to my childhood. My family would visit my aunts and uncles here every weekend and we would go fishing for papio and āholehole on Kāne'ohe Bay. I remember catching baby hammerhead sharks all the time and releasing them back into the bay."
---