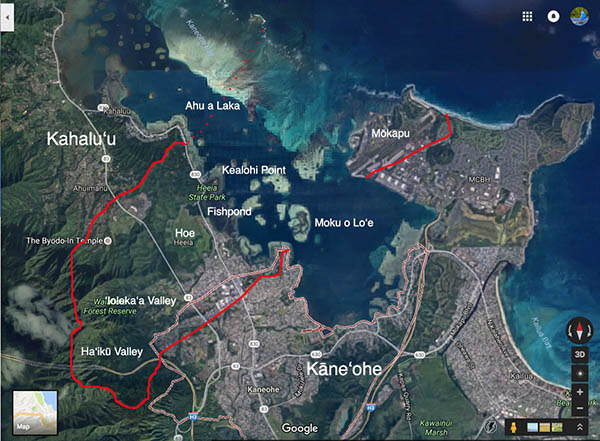 The ahupua'a of He'eia encompasses two valleys: the broad valley of Ha'ikū ("speak abruptly" or "sharp break") and the small valley of 'Ioleka'a ("rolling rats"), as well as a portion of Kāne'ohe Bay with Moku o Lo'e island, and the 'ili (strip of land) called Mōkapu on the Mōkapu Penninsula.
He'eia sits between the ahupua'a of Kāne'ohe and Kahalu'u. The suburban sprawl of Kāne'ohe spills over into He'eia, such that many people do not realize it is a separate ahupua'a. But suburban He'eia but yields to the rural wetlands of Hoe, the fishpond, He'eia State Park at Ke'alohi Point, and the hill Pu'u Mā 'eli'eli.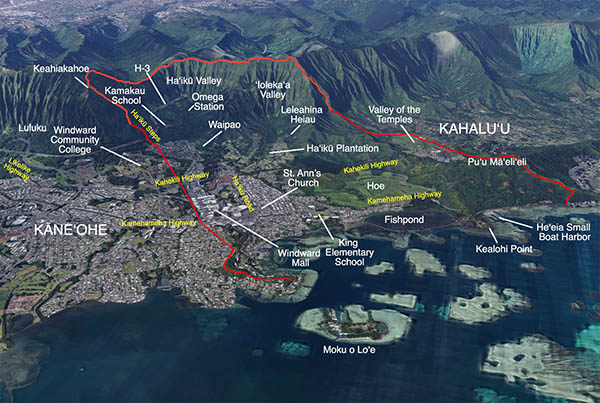 This map shows the key landmarks in and around He'eia that are frequently discussed in the text, not including Ahu a Laka and Mōkapu, shown on the first map above. Boundaries are approximate.