Two views of the first navigator platform frame.
You can see that the rail on the other side has not been made yet. Making these platforms was simultaneous with making the rails. It all had to happen at once.
Now I was faced with a dilemma: what to make the surface of these platforms out of? On Hokule'a, they are some sort of rubberized mesh, and are referred to as the "trampolines." I didn't have a substitute for that, and wanted a more traditional look anyway. I thought about using lauhala matting, but decided that would not have been used traditionally since it's not strong enough.
Then I thought about bamboo, which I use for the set-outs on my sailing canoe. Lash a bunch of them in a row and there you go! I realized that I had a bunch of bamboo kabob skewers in the kitchen, and thought of lashing them together. Just as I was imagining what a chore that might be, I realized I already had almost exactly that, already made: sushi-rolling mats.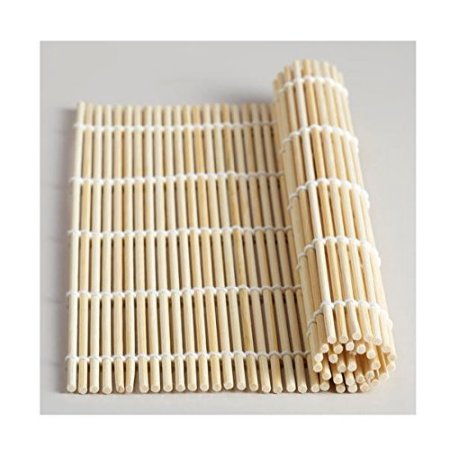 What's more, it was exactly the right length! I just needed to cut a width I could use, making sure it was stitched on both sides. This proved more difficult than I expected. I thought I could just run it over a saw. But the individual bamboo pieces moved around, making for irregular cuts. So I ended up snipping each one individually to just the right length, then slid the stitching to where I wanted it. Then I dyed these pieces and lashed them on.