"Back in 1968 Typhoon Jean damaged the entire island and one of the antennae fell. And when it fell, it fell toward the church. And there were a lot of people inside the church. And then they thought a bomb had exploded, because this antenna fell right toward the church, and guess what? The tip of the antenna landed only a foot and a half from the building. And that thing just came down like this, with a loud noise, and everybody thought that the whole church exploded."
"I left the village and I went abroad to get educated, and when I came back there were no more antennas, so I don't know what happened. Perhaps they were declared unsafe or unstable, and they took them down. There are no remains in the village. Even the base, the base was built on block, I think it's about 10 feet by 10 feet, and then where the foot of the tower was built on, I think it was 5 feet by 5 feet. And these blocks are gone now. They're not there."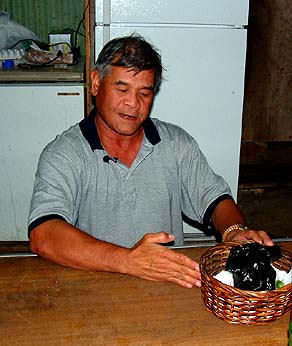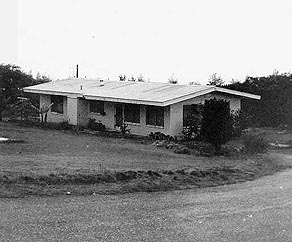 "About 1956 we move up to Capitol Hill," Rosa says, "because that's the time that the Navy--all of the NTTU family--went out of the island. I followed my 'nieces,' the family I was working for. I was working for Mr. Bacchus. He was a chief engineer for the Four Winds (the ship for the NTTU). The captain of the ship was Captain Whitman, and Chief Engineer was Mr. Bacchus. They had four kids, and I moved with them up there. The house number was 1365. The captain's was 1364."
"It was the CIA that moved up to Capitol Hill," Ben clarifies. "They have a very nice place up there and so when the Navy left, they moved a lot of their people up to Capitol Hill to continue their work."
"Capitol Hill was their place," Scott elaborates. "Up until '62, you couldn't even go up there. That was off limits."
"A fellow that was looking for Amelia Earhart came out here around 1960 or '61—he got security clearance out of Washington (which was needed to come to Saipan) and they allowed him to come out and look around. And then one day he was summoned by the Naval commander, so they put him in a jeep and they drove up Capitol Hill.
"And suddenly he was in this little suburb in the United States: nice neat concrete houses and sidewalks and everything is paved, and there was a commissary up there and a basketball court and a post office and a bar. It was a little self-contained American community, and he had been on the island for weeks and didn't even know it existed. So it was a weird little place up there."