"They were stockpiled down near our cemetery, and then they started giving them to people to use for barricades—beach barricades, church barricades, baseball barricades, school barricades—and they ended up in the village."
"Some used them as decoration around their properties," Juan explains, "because they looked very nice. You didn't need to paint them because they were already brown.
"Some people used them for barbeque stands. They would burn it, oil would leak out, and we would push the oil to the side; some got burned in there with barbecuing."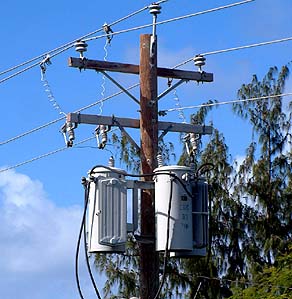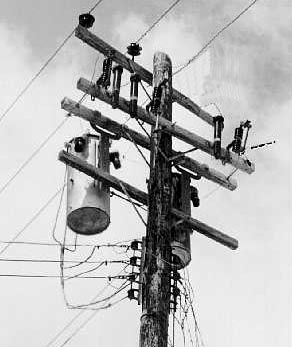 "The capacitors were right alongside the base of the Voice of America towers. When I was growing up, the towers were not in operation any more. There were four towers, and right in the middle of the four towers was a huge quonset hut, about 100 feet by 50 feet. And inside this quonset hut there were capacitors all over.
"When it was not in use any more, the Pangelinan family fenced in the tower and raised goats inside, and we used to herd the goats into this quonset hut, close the door, get up on the beam, and jump down and start riding the biggest goat.
"And when I was really sweaty, I loved to hug the capacitor. It was very cold. Just hug it. In mid-afternoon, you could see the dew on them, the condensation. Then when they moved them to use as barricades at the baseball field, right after practice we would all run to a capacitor just to cool off."