"Hotnu is a Spanish influence, originally. The Spaniards were here for more than 400 years, and their influence is very prominent on the island. I can safely say that at least 60% of our language is made of Spanish and the rest, a much smaller percentage, is Chamorro. We don't know how to count in Chamorro anymore. We don't know how to say the days and the weeks in Chamorro. They're gone because of the tremendous impact of the Spaniards' influence in the island.
"Now a lot of the architecture resembles the Spaniards'. In fact, the Spaniards' architectural design continues to be number one. It's probably more a result of convenience, as the design was here and it was easy to implement that design. Including the hotnu."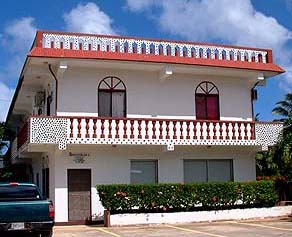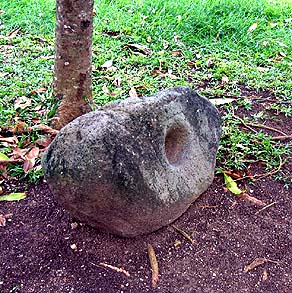 The name "Taitano" reflects a distinctly Chamorro influence, and Mrs. Louisa Sablan tells its story:
"This took place a long, long time ago, here on the island of Saipan. A long time ago, the people did not have last names. A long time ago, the ancestor called all the people together to give them their names. From then on, people have such names as Sablan, Mangalonia, and Taitano.
"The family with the name of Taitano were the last people that came, and they ran out of names, so the ancestor, back when they were giving these names, they said 'Let me give you this name, Taitano.' And that's how this family today has that name."