"Her name was Maria Anna and she was a Spaniard descendant," Ben adds, "Our ancestors were taken to Tinian to work for Johnson to hunt for goat, to hunt for chickens, and to hunt for cow, and sometimes they would be brought to Saipan to slaughter cows up in the San Roque area called Matansa."
"Johnson had an accident in those times," Rosa continues, "His ship sank between Tinian and Saipan. So when that incident occurred, the mother of Johnson's wife came to Tinian to see her daughter. And later on she gave the statue to the people of Tanapag, because she had to leave and she wasn't going to take the statue back with her again."
"She didn't want to carry all these things that are fragile," Ben says, "so that icon came to the village, and since then we've had it here. That happened maybe more than 100 years ago."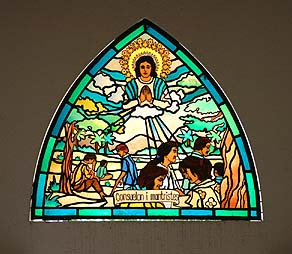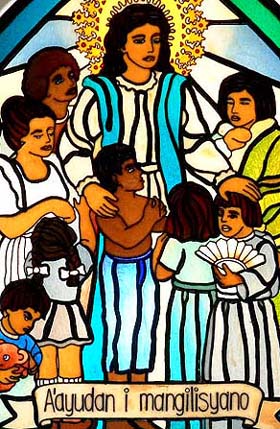 "The church is very important to the community," Rosa explains, "If I have a baby, before I give that baby a name, I have to go to the church and have it baptized in the church. And when children are growing up, the church is important. When they're about five years old, they have to learn how to read catechism for first communion. And after that, when people are going to marry, if they want to marry into the good life, they have to marry in the church.
"In our custom before, when you married in the church, that meant'until you die'— you never separate. But these days, even if they married last week, they find another girl or find another boy around the store or in the restaurant, they forget what they offered at the altar, 'My wife forever until I die.' And they divorce and they marry another one.
"But before, when you're married in the church, that's your wife, that's your husband forever, until you die. That was one of our regulations in the church."