| | |
| --- | --- |
| Health & Disease | |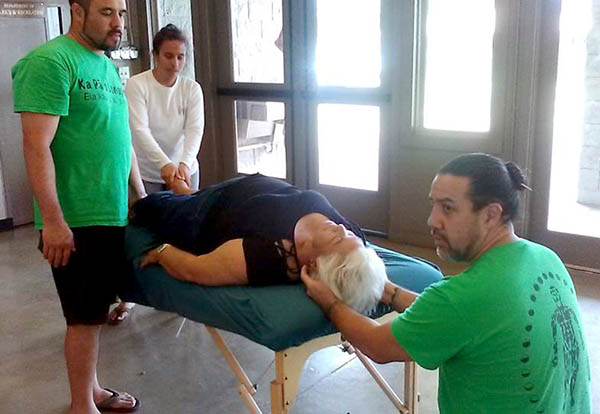 Keola Chan works to relieve imbalance. Photo courtesy of Keola Chan.
"Disease is an imbalance of that pono state," Kamaka explains, "so when someone is imbalanced with Akua—when there's a disconnect from that spiritual realm—or if there's a disconnect from the 'āina, or a disconnect from our fellow kanaka, we tend to see sicknesses appear with imbalance of pono. I think pono and that relationship is important with health and with disease.
"I've studied the practices of lomilomi, lā'au lapa'au, and ho'oponopono. So everyone is different: they come to us for different reasons and different purposes. So initially it is trying to figure out where the imbalance is in the people and figure out what they need. A lot of it is individualistic. Part of that aspect is the nīnau: the questioning and answering to figure out where the imbalance is in order to find out the root cause of that sickness or disease to see what they actually need. Because some people, they may come to you with a kink in their neck, saying that their neck is sore. Initially you might think they need lomilomi to relieve that kink, then sometimes after conversation and observations we find out that there's a deeper issue. Maybe it's imbalance with relationships, and maybe imbalance of self. Or turmoil within the 'ohana, significant-other relationships. There's a lot of different issues that can arise and manifest itself into a kink in the neck. It is not always a physical element that we are addressing.
"So a lot of it is asking the right questions, being a good listener. And also being in tune spiritually in some sense. Sometimes you start asking questions where you're like 'why am I asking these questions,' but all these questions are coming up and it would lead us to the answer that we are looking for. It may seem like we're coming out of left field, that we're talking about their childhood and their old boyfriend or girlfriend, but sometimes the issues lie in past relationships. And then we can figure out what we need to do or administer, or if we're the right people to actually work with these people, because not always are we the right people.
"Sometimes, you are not the right person, you got to refer them to someone who is better suited to help that person, to get to the root cause of their sickness. But everybody is different. Finding the right people to work with—I may be the right person to lomilomi somebody or to help them through the healing process, and sometimes I might not be. Maybe a wahine might be a better fit. Or someone, maybe they don't feel comfortable with me, they don't feel comfortable sharing those experiences with me because we have a too close of a relationship. We got to refer them to somebody who they can feel comfortable with sharing those details. It is important in how we can get to these root causes of their issues."
"You look at all of our healing practices," Keola Chan agrees. "It was never targeted to just an individual. It was always understood that the individual is really part of a family, a whole. So if you want to heal the individual, you better heal the family too.
"Because you can do as much as you can for this individual, but if the home is sick and he goes back to the home, guess what? He will be sick again. You want to heal the individual while attending to the family. It's one and the same. The term they use nowadays is holistic, the individual as a whole, but that's where the Hawaiian mind comes into play. It's not just an individual thing.
"That idea is a challenge for people to understand, because they just looking physically at what's in front of them and I'm saying 'No, you cannot.' We greet people here in the islands. Right off the bat, you look to larger than just the individual. Because when we greet people, it's like, 'Oh, so where are you at? Where are you from? What's your name? What school you went? Where do you live?'
"We're trying to identify a space that is connected to not just who are you—'Oh, I am Keola and I graduated from this school.' No, no. 'Where you was raised? Who is your family?' Those are critical questions every time you meet somebody in Hawai'i. And those are connecting, and it's also a perspective of looking at the individual. It's not just who's standing before you, but where you come from.
"So healing takes into account multiple facets to the individual, the depth of what stands before you. And understanding the historical pieces that, 'Yeah he may be stressed out right now but it's not just right now. These things have been happening. Certain things have been at work, at home, in his social life, that is causing what physically has manifested.'
"And really, what you've seen in front of them is the tail-end. I tell people, 'Lomilomi is really the last resort. We're really catching them too late already. When pain has manifested in the body, when something like cancer has happened at the cellular level, too late.'
"Sickness has started in them way before an act. Injury, pain, that has happened way before what you see. When you look at healing practices, our kūpuna developed many different specializations. Like how we see in hospitals today, there's many different professions because they understood how sickness was moving and morphing. And so, they created systems to address them."
Keola Chan discusses intergenerational trauma, or mo'o hihia
"I think healthy people are people that are more tied to the land," Kanekoa adds. "Heath would involve the ability to eat traditional diets and traditional foods that our ancestors evolved in; having the choice of either/or. I know we're terrible parents that we went to the beach and then we went to McDonalds, because they have 'the pick two for three dollars.' I mean, that's the hypocrisy that we're talking, right? We have bags of poi at home but we came from the front of the beach, kids were hungry, we're like, 'Yeah! Let's go to McDonalds.' We see the hypocrisy of that.
"We see a healthy goal, we see the pictures of our old families, but were they happy back then? I don't know. When we have so much food that we're just giving it away and yet still being able to make the ends meet and be able to sustain ourselves, then that's healthy."
"Uncle Danny Bishop said health has to do with well-being and prosperity," says Nick Reppun. "And you could define well-being and prosperity in a lot of different ways. Uncle Danny was saying for Hawaiians, prosperity on the one hand would be having land to cultivate and having water, access to resources. That's probably up there in the definition of prosperity. And well-being is a good family life and just overall happiness. I think it has to do with more qualify of life and satisfaction.
"Our physical health, the health of our bodies is somewhat dependent on those other two things, especially for native Hawaiians, I think, having those. It's almost like a triple bottom-line for health. That's from Uncle Danny."
"Health is the hope that we can continue as a lāhui [nation] from a native Hawaiian health perspective, a thriving lāhui," Kanekoa concludes. "Our people continue on. We're still procreating, but are we healthy? I don't know. So hopefully, Kāko'o 'Ōiwi can be one of those avenues where we can, again, show the abundance of what our people are."
---