"Where I was raised in Kawaihae," Pua recounts, "we had the Nagasawas, which is Ku'ulei's family. We had the Jack Polo, which is the La'au fish market is here, his grandfather. We had the Terigono Japanese family—they lived right in the back of us. Then we had Bill Akau's grandfather, Ka'ula'ilimoku, Simpson Ka'ula. And there was a Solomon Akau. They had a Dela Cruz family. And then we had a family that was a builder and that was Matsumoto, down below on the makai side of where the Minute Stop store is now.
"Kealanahele, was just before the church. And we had this guy called Tutu Oliver, he was a La'au. We had this guy called Tutu Mahea, he lived there. The Hui family. And then my neighbor over here, my cousin, the family was Solomon Akau. We had a lot of Filipinos. We had like Ernest Pilonio, we had one called Big Maning, Small Maning, Coconut Willy. We had a lot of people that lived down here"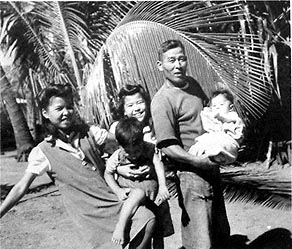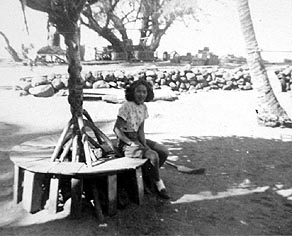 "Some people had government jobs," Lala points out: "the Akaus at the Post Office, like that; the sheriff, school teacher, government jobs.
"We had all these plantation workers, Filipinos, they lived here. They were living over here too, in the shacks there. They quit the plantations, and came down here to fish.
"My uncle Oliver La'au used to be the one to take care of the light house, and Spencer Park. The whole park. They had one house over there where they made the circle. The house is still there."