"During the years of the United States' involvement in World War II (1941-1945), Kawaihae's role as the shipping outlet for Waimea was intensified. O'ahu's burgeoning population of defense workers and military personnel demanded accelerated shipments of cattle from the Parker Ranch through Kawaihae" (ibid.)
"When the War started," Lani recalls, "they had barb-wired the whole place, the seashore, because you see the Japanese might invade, come from the ocean, and boy it was a bad. They had barbed wires all over the beach. So then we had to be very careful. But they still brought the cattle down."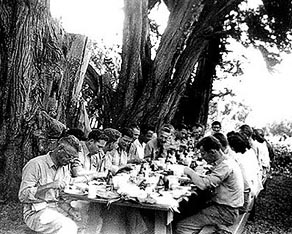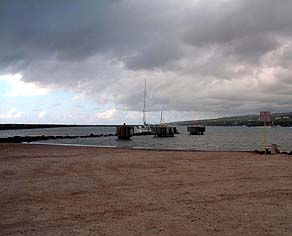 "I believe the military started coming in [to stay] probably in the '50s," 'Ilima notes. "I graduated in 1959 and they were there already, because they were using Pohakuloa as the training site and the only way to get to Pohakuloa would have been through Kawaihae, bringing all their things in through the harbor.
"At first, it was the Coast Guard. They would bring their ship, and they would dock. And the Coast Guard would show movies every Saturday night. So everybody would go take their mats, lay it on the wharf and watch movies. That was good.
"When they built the big coral flat, they built themselves their own landing, their own wharf, because they would come in with the ship and then just open it up, and the trucks and things would come out. But it used to be that they would land by the old wharf, where Matson is today, and that's where the Coast Guard would dock too."
"The military train up at Pohakuloa, but they also live down at Kawaihae, because they have all of their equipment that they bring in on the LST. So they need to have someone there to watch I guess after their equipment.
"There is a military access road that goes up through the mountains, because they don't use the main highway. So they made their own road to get up to the Saddle Road. Which is good for the people that are using that highway, because if you're going to up to Honoka'a or up into Waimea that's the only road you have, unless you come around and go Kohala way.
"That's the only road, and if you have this heavy equipment using that road, it's kind of difficult."