"And early in the morning we could hear them coming down the road. We would get up early in the morning watching the cows go by, and we'd go down to the pier and watch them hoisting them up."
"I remember they would come down like about 3:30 or 4:00 in the morning," says Jeannine, "and my Mom would say, 'they're bringing the cows down, they're bringing the cows!' And it was like a cattle drive. They would bring them up from Waimea, bring them all the way down, because they were going to put them on boats and take them to be slaughtered over on O'ahu.
"The house that we were living in had three sections that, if I remember correctly, were all screened in—no glass. And we had pune'e. A pune'e is what we would know today as a 'day bed.' My Mom had pune'e, my Grandma had pune'e and we would sit up on the pune'e. There was a little ledge on the window sill, and my brother and I, we'd watch."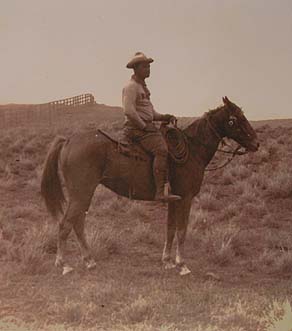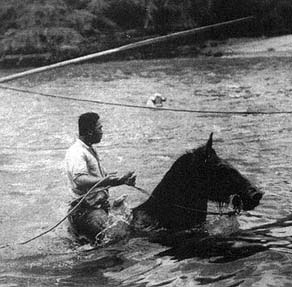 "Tutu Alec, who was my Grandma's brother, he was one of the supervisors with the ranch, and we'd be hollering 'Tutu Papa! Tutu Papa!' and he'd make sure that he'd see us wave at him. And they'd go right through the little village and on down to the harbor."
"It was a big event, when the cattle came down," Lani says. " Everybody went by the stone wall to watch all the cows passing by. And they went down to watch them hoisting up the cows."
"Uncle John Kaimakini was a cowboy," 'Ilima says. "It used to be at Kahua Ranch that every employee would get so many pounds of beef every Friday. So what we would do, my Dad would fish down Kawaihae, take the fish up to the ranch and they would bring meat home. Since we had no refrigeration, we'd salt the beef. We ate a lot of salt meats. My Mom would salt it."
"And of course the day we brought it home, my Mom would cook a big pot of stew and we would pulehu some—put it on the charcoal—and then the rest we would salt. And of course we would call the neighbors to come over."
"We didn't even fry it," Lani adds, "we'd go and put a charcoal stove on it, and turn it on the charcoal. It was good. Later when we went to the beach, camping, I would buy a few steaks and I would throw them on the charcoal. You have a metal grill on top of the fire. You didn't throw it right on the coals. We had a metal thing on there and then we would barbecue all the beef.
"But those days we didn't know how to make Japanese barbecue. Just threw it on the fire and Hawaiians used to call it pulehu meat. Pulehu means to throw on the coals, Hawaiian barbecue. And we had that with poi. We never knew what rice was. We always ate poi."