"I understand that some people did get hurt. I mean, they would stomp on you. If this your bedroom happened to be on the trail, and you're asleep, they would stomp all over you and walk right through. At the Waikoloa Hilton, there is a trail there. Turn right, when you're driving along that road going towards the hotel you come to a place where there is like a cobblestone path. They made that because the night marchers go through there.
"And people have actually seen them. They left that open for them because they were told by the Hawaiian priests, 'You do not close that area up because you will be sorry.' So they just made a cobblestone walkway where whoever is walking on it could walk right through. They listened to the Hawaiians, because a lot of things happened when they were constructing. So it's not only legend. In some cases it's actually reality.
"In Kawaihae, was there an actual trail that people knew where it was. And they respected that. The old Hawaii people respected that. I'm not even sure if it still exists now. Because there are so many things that have been built there."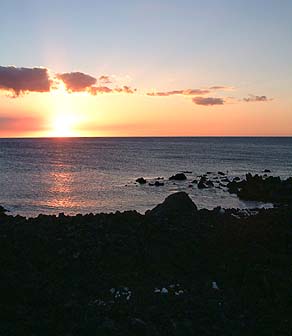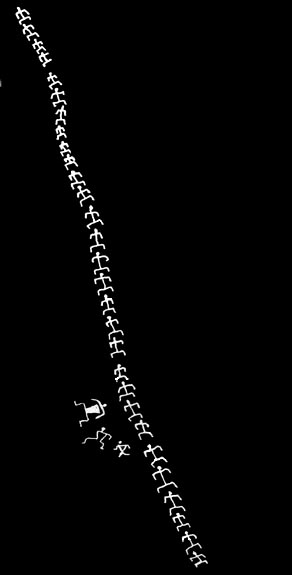 "You see this house over here?" Pua says. "Certain time of the year, you will see at night, before midnight, the darkest time of night, you will see tiny little lights walking, because that's the pathway.
"And the same goes up there, up at the new Hawaiian Homes. My niece said 'Auntie, you know the Hawaiians were out last night.' I said, 'Why do you say that?' She said, 'Because there was a lot of lights going down the road.' I said, 'Whenever you see something like that, you know that's an old Hawaiian trail, that's the pathway. And if you're in the way, they're going to just walk right over you.' And the same thing in my home.
"They call them the Night Marchers, but I look at them as little menehune going home from the fishing trip, or maybe they go and plant the fruits, bananas or whatever they plant, taro, certain time of the night, and moonlight too, on moonlight they go out and they plant the sweet potato.
" I say the main thing is that you don't bother them. Because the only reason they do that, and they don't make you scared or anything like that, is because they are going back to wherever they came from. And just let it be."
"There is another tradition," Hannah relates, "that I learned from the old folks at Kaupulehu, associated with one of the winds there. To these folks, that wind would be a portent of the walking of the people of that land. And they tell stories. This one friend, if she were living she would be 103 or 104 now, she tells the story of being a child at the place where Kona Village Resort is now. And the old folks, feeling the wind, secured her with bindings made of flour bags, like binding her to a chair. And they told her to not pay attention to what she would see or hear.
"Well, soon she saw a throng of people walking through their kauhale, the place where they stayed, and some of the people she recognized, and they were calling out and inviting them to come with them, but the old folks wouldn't look and she couldn't go.
"Years later, when she is now a young mother, going down there, she had a similar experience with her son, and so she came full circle in her understanding of the wind and its portent."