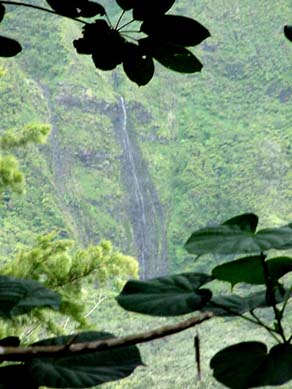 Conceptualizing the early times is always problematic. On the one hand, archaeologists present their schemes based on physical evidence. On the other hand is the Hawaiian oral tradition. Puakea explains:
"Actually, what we have been able to test and check is very limited. It's important to remember that when we're trying to define timeframes and systems. One archaeologist proposes that ahupua'a sort of graduated: as the population reached a certain level of density or production, it became an ahupua'a. He doesn't go with the Hawaiian tradition that all of the ahupua'a were established at once, that the boundaries were set.
"Legend says that Ma'ilikukahi set all the boundaries, sometime around the 1400s, 1500s, depending how you run the genealogies. It's looked at as a governing system, and an economic system, as well as an ecological system. It makes sense that it would all have been applied at once.
"It's a brilliant conception to be able to rule the whole island and its total production, by name, from a single spot. You could sit, whether you were ruling from Kailua or from Waikiki, with a 'aha, with a council of your chiefs and your land managers. You could, by name, award and collect taxes, and oversee every single district on the island. And really, you'd only have to talk to six people (one for each moku). It's a brilliant system, and it seems that it functioned relatively intact for 400 or 500 years, which is longer than the States have functioned for the United States."