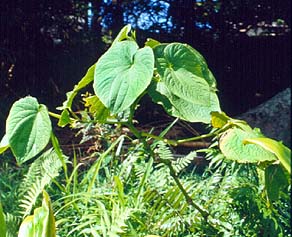 Racing back over the Ko'olau ridge, Haumea descends Nu'uanu. By the bank of Waolani Stream, she encounters a farmer, Kali'u. "He saw her, a beautiful woman adorned with the greenery of the upland and greeted her....She returned his greeting and asked what news there was in the lowland. 'Ah,' he replied, 'There is some news. A man is to be burned to death today, and there is a fire being lighted'."
Learning that his farmer pities the fate of her husband, she asks him for some 'awa to chew. Kali'u says that he indeed has 'awa, but that there is no water. "No, we have none and have to depend on the rains to fall and the water to flow down Waolani stream. It is well with us in the rainy season but when the warm summer days come, we are without." Haumea replies, "You chew the 'awa and I will seek water."
"She went out, glanced here and there and saw a large rock. She went up to it and then turned to call Kali'u....He came...She said, 'I will throw this stone at the Waolani stream, and if the water splashes and the fine drops rise up in the air like the mists that nestle on the mountain tops, that is the water of Puehuehu.' 'Say, stranger, how can you throw that rock at that solid hillside to get water. Several times forty men cannot move it and you are all alone. How can you do it?' 'Watch me,' she said.
"She uttered a prayer....and a fork of lightning struck the side of the rock....Kali'u watched in amazement as she lifted and tossed it. A gust of wind went by that almost knocked him off his feet.... The rock struck and the earth trembled. He saw a spray of water rise up into the air from Waolani stream.
"She sent him to fetch the water and he found a spring on this side of the river where the water fell into a deep pool below. That is the pool of Puehuehu ('the spray scattered') to this day."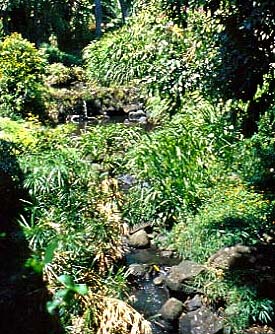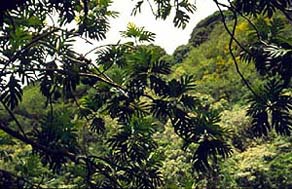 Haumea chases the chief's men down Kaho'okane, the ancient trail that went down past Puehuehu to a place called Nini, just above Waikahalulu Falls. "She ran along, and when they were near to the breadfruit tree of Nini she met them. She saw her husband with his arms crossed and tied in back and with no malo (loincloth) on. Pity welled up in her, and her tears flowed. (Who among us who has a companion to embrace in the long nights of Ho'oili (winter) could remain unmoved at seeing the shame and humiliation to which he was being subject? Aloha 'ino!)."
Haumea "slapped at her husband, and as he spun around, the breadfruit tree split open. The two went into the tree, and the crack closed up tight. They went out the other side and down to Ka'oehuehu. Where Wai-ka-halulu and Pehuehu streams join, [she] threw off her pa'u of beach morning-glory vines. (It grows there to this day--a wondrous thing, for this is a plant seen only at the seashore.)"