"They made themselves into a permanent government and started a constitutional process. The Provisional Government was turned into a so-called Republic, but almost none of the Hawaiians participated in that government, for a couple of reasons.
"One was that anyone who wanted to vote had to sign an oath saying that they would not work for the restoration of the Monarchy. It had already been a constitutional monarchy where people had been voting for many, many years.
"Now, in order to vote in the Republic or even for or against their Constitution, people would have to sign a loyalty oath saying that they would not work for the return of the Queen in any form. And so people wouldn't do it."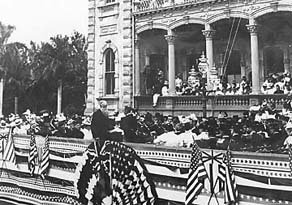 Click the thumbnails below to see how use of the Palace changed:
| | | |
| --- | --- | --- |
| | | |
| First Floor: | | |
| Second Floor: | | |
"The Provisional Government had decided that 'Iolani Palace would make a good capitol," remarks Jim Bartels. "The royal possessions were dispersed , or put into storage in the basement, and the government took up occupancy."
"The furniture and things that were in the palace were disposed of," Kahili adds, "in order to rid the Hawaiians of all signs of their own government."
"Starting June 5, 1893 until 1969, the Palace served as capitol of Hawai'i," Jim continues. "The government changed, but the placement of the offices was remarkably constant through the Provisional Government, Republic, Territory, and State. The Council Chamber of the Provisional Government set up in the old Throne Room, ended up being the House of Representatives hall for the State of Hawai'i. The old dining room--the State Senate; the King's bedroom-the Governor's office, and so on."