"At the time, you didn't have too many highways that size," Kalani recalls. "Originally the median strips were very wide lawn areas with big monkeypod trees, and they came over and shaded the highway, which I believe was their purpose. Then in the late '60s and '70s, suddenly they took out the big trees, and narrowed that planted area, and put in the third lane, because it was only two-and-two.
"That's when you really noticed it, because then the traffic was much heavier, and faster. I felt, 'Gee, we're losing a lot of the valley feel.' Then again, you were relieved that all these cars weren't stopping. I had been away at the time, so I didn't notice on a day-to-day basis how Honolulu had grown. When I came back I saw the additional highway lanes, and that the monkeypod had been almost all taken out. That was when I felt the impact of the growth. There's I think one monkeypod left up here, but they were all through this middle section and down the highway until it narrows at Kapena falls."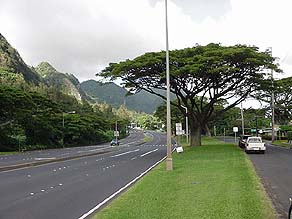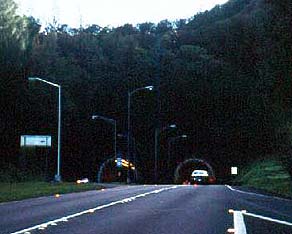 With the Windward side now linked by highway to Honolulu, "the result is constant traffic. People from Kailua or Kane'ohe use this as a transit way," Kalani remarks. "And they bring their concerns: We want more lights, we want to go faster, why can't we have a gas station? And so the community would say, No more lights, or, no, you can't have a gas station. And we don't want speeding cars through here. That's been a concern since the 1990s, because prior to that, I don't know, people just weren't in so much of a hurry. Now, if someone is delayed in traffic five minutes, they feel that they have the right to go faster.
"Now they want to widen the highway, and add on reverse lanes in the morning, so that the traffic can move faster. There have been proposals to elevate the highway, and then add more lights. I don't know what it will solve, because as soon as they put in that lane, the cars will fill it, and they'll still be five minutes slower. The community has been against it, especially the newer residents that have moved here specifically to get out of the city. They'll come up and say, 'I moved here specifically five years ago to get away from that, now don't you dare do it!'"