Hanaiakamalama, or Queen Emma's Summer Palace, is the only remaining royal residence, besides the ruins of Kaniakapupu. Built in Boston on the commission of an American ship captain and shipped around Cape Horn to Hawai'i, the house was auctioned in 1850 and purchased by John Young II, Queen Emma's uncle.
Queen Emma, wife of Kamehameha IV, was descended on her mother's side from John Young, Kamehameha I's British advisor who married Kamehameha's niece, and from high chiefs on her father's side. She was given as a hanai (foster child) to be raised by her mother's sister, who was married to an Englishman. Consequently, Emma received both Hawaiian and English upbringing.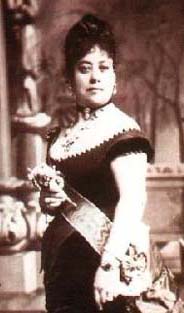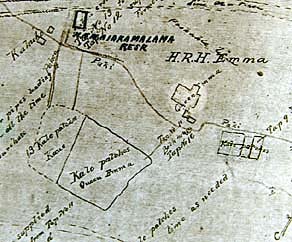 The site of Hanaiakamalama, near Pu'iwa, is thought by some to have formerly been a heiau. Kalani states, "from listening to people, I understand that when Kamehameha would come, because the area was planted in lo'i and 'uala, it was about this area that he would turn and look down the valley. So if this was a stopping off place, then there probably would have been a heiau, to mark the spot or to conduct ceremonies and rituals--because it was so much a part of daily life. You didn't go to church on Sunday for two hours; Hawaiian spirituality was incorporated throughout the whole day, from when you awoke. Maybe not in front of strangers, but certainly in private."
After Queen Emma's death in 1884, the house was purchased by the Hawaiian government and rented out. It was slated for demolition under the Territorial government in the early 1900s, but a group of women came together as the Daughters of Hawai'i and has since been maintaining and preserving the property as a museum. They have retrieved many of Queen Emma's family's possessions, and re-established Hanaiakamalama as a royal residence in Nu'uanu.