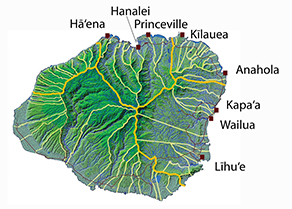 Today most people travelling from outside the Hawaiian Islands would arrive by plane at Līhu'e Airport on the East side of Kaua'i. One then drives North on Highway 56, past the royal coconut groves at the town of Wailua, the former seat of power on the island, and through the town of Kapa'a.
From there, the urban life of Kaua'i is largely left behind, as the road continues counter-clockwise around the island through Anahola, then around the spur of the mountains to Kīlauea, famous for its lighthouse out on a rocky point.
At a higher and drier spot, the recent development of Princeville is encountered. Carved out of former ranch land, Princeville is a collection of condominiums, vacation rentals, shops, and a resort hotel perched above Hanalei Bay. This recently created community is populated largely by outsiders to the area who bring greater wealth to Kaua'i's North Shore. Consequently, Princeville hosts a small and mostly private airport, modern medical facilities, and the fire station whose service area reaches all the way to Hā'ena.