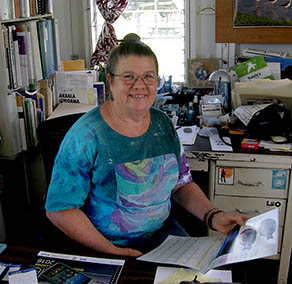 Makaala Kaaumoana:
"I was born Kāne'ohe. I'm not from this island. I'm in Hanalei because I married a Hanalei boy and I did not ever intend to do this work, but I was given the name Makaala in the traditional way at the age of one, by my mother's sisters. Much to my mother's chagrin, because the name Makaala—'eye' and 'path'—means 'watchful, vigilant,' and it tends to be an assignment. That's what those women meant for it to be, and my mother really didn't want this life for me. She wanted me to be a good little housewife and mommy and stay home.
"Her mother is the tree from which this apple falls. Her mother—my grandmother—was a suffragette and a college graduate in a time that that was a very rare thing. And she left the legacy in my DNA that by-passed my mother altogether. My mother was quite an accomplished water colorist in the 30's and early 40's in Hawai'i, and held a prominent position in the Territorial Legislature as an executive secretary. But that's as high as she aspired to go. My mother's family goes back five generations in Hawai'i, so I am part Hawaiian.
"I went to school in California and ended up staying there and having a career as a teacher—a nurse and a teacher and retired as soon as I could to come home. I went home to Kāne'ohe and didn't recognize my place. The house was still there, but I didn't recognize the neighborhood, didn't know any of the faces, and didn't know any of the places. And that was in the late 80's.
"I did what Hawaiians did in those old, old days: I got back on the airplane and came to Kaua'i. Because Kaua'i was the place where we came for refuge, for respite, for family gatherings. Almost every kama'aina family had some roots here. I'm not sure how that happened, but it has always been a place that we would come to recreate or to escape, or to gather. So for me it was a safe place, even though I hadn't been here in years.
"I got off the plane and rented as car and drove to the end of the road, as far as you can drive: Hā'ena. Saw a sign in a yard, saying 'house for rent,' squealed my tires into the driveway and said 'I'm here and I don't care how much it is—I'm here, and it's safe.' And it's a place that I recognize as being still okay. In the late 80's the community of Hā'ena had not been as impacted as it is now with an influx of big money—billionaires with a " B" and transient vacation rentals. At that point you knew who your neighbors were and if you said 'Do you know your place?' people said, 'Yes'āthey understood what had and they understood its value."