"The breadfruit trees, coconut, betel nut," Walter adds. "You see a lot of them all over. The little red mountain apples are kídel, it's an apple-like shape. This some are white, some are red.
"The almond tree, we call it míich. The one with the red leaves? Their nuts are one of the important ingredients of a special food. When new rubak are going to bear title, the four ranking rubak, then they would throw a feast and make a dessert in the dugong shape, from the meat of these almond tree nuts."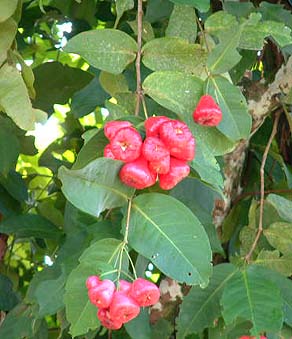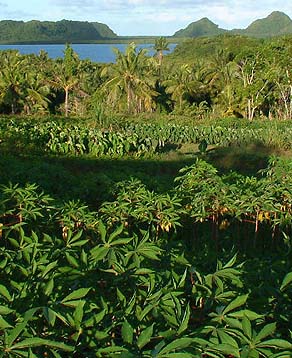 "Now it's beginning to turn towards having a tapioca garden," Kathy says. "That is still women's work, but it's less regarded than having the taro patch."
"Tapioca is a main source of starch," Walter states. "You steam it, or just boil it. It is much easier and more convenient to get than taro. Taro is a lot of work. And tapioca is less than an half of hour, then you get it back to the house and peel it and cook it, much faster than taro.
"People today are into California rice, and many younger people are much more used to rice than the taro."