"After each of the gods failed to throw a stone to the island, it became Medechiibelau's turn. On the way down he put the cardinal honey-eater inside his mouth, pretending that he was chewing betel nut, but basically keeping the bird alive. Then when his turn came, he took the robin from his mouth, kind of secretly so nobody could really realize it, and then he threw that bird, and it started flapping it wings.
"When he threw the cardinal honey-eater, it began to flap its wings and he would say to his friends the gods, 'well that is my betel nut, it is opening.' Because when you chew betel nut, sometimes it can open like a husk opens up. So he was telling his friends 'that is my betel nut, it is opening now'."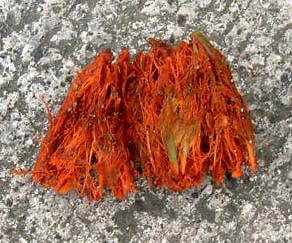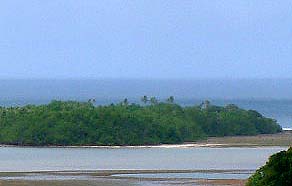 "And the bird flew all the way to the top of a type of pine tree, ngas, that was standing on top of the ridge. And he perched on the bough of that tree. If go to the island of Ngerduais today, that ngas is still standing at the very top of the limestone ridge. So Medechiibelau claimed the island to be his."