"One day Medechiibelau and his friends, the gods, seven of them, were residing at Belualaruchel, their place up in the hills of Airai. They decided to have a canoe race. I think they began in the place in Airai Village called Omuchel, and they were to sail through the Rock Islands along the way to climb and to take the pine tree branch and to bring it back.
"And Medechiibelau knew that there is a place in the Rock Islands called Ongebítel Klemát. Klemát is the rope for controlling the sail of the canoe, and the name Ongebítel Klemát is a 'place where the mast are dumped,' 'the dumping grounds for masts'."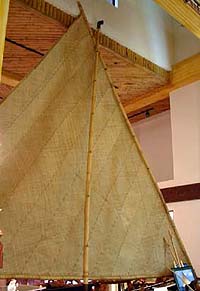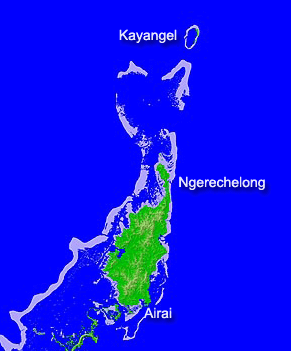 "And Medechiibelau knew that there is a god there, a supernatural person there, who loves to cause the canoes to capsize or to sink. He has a long hook. When a sailing canoe goes by, he would hook the mast and then pull it, so that they would not be able to sail beyond. And Medechiibelau knew that.
"So on his canoe, he prepared seven masts with seven sails, and when all the gods went by, all of their sails were destroyed. But when Medechiibelau went by, every time the god hooks his mast, he put another one on, and the seventh time he was able to flee from him and escape his reach."
"While splashing his canoe, racing his canoe to Kayangel, he saw another god, called Uchelkebesadel—he is the god from Ngerekebesang— whose canoe was moving very fast, because he was able to avoid that too. So on the way to Kayangel, he realized that he may not be able to get the pine tree ahead of his friend from Ngerekebesang.
"So he created a storm, to create invisibility, then he took a detour: instead of going to Kayangel at the northern atoll, he went to Ngerechelong at the northern tip of Babeldaob, and took his pine tree and returned, winning the race because nobody saw him."