"Medechiibelau, at one time, came with his friends, the gods, to take their taro, their baked taro, called delúl. Delúl is to cook something in open fire. No water, just exposed to the fire. And the gods then picked up the taro, the baskets of delúl, and were going all the way to Ngerechelong.
"Ngerechelong is the northern tip of Babeldaob, where there is Bairulechau. Bairulechau is now one of the historical sites in Palau where you see huge rock pillars. These were supposed to have been the posts for the major bai for the gods, called Bairulechau. It's a famous historical site in Palau."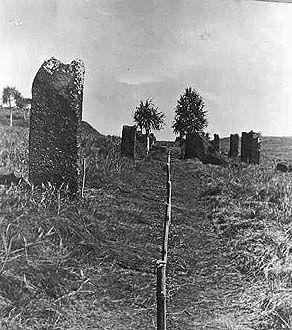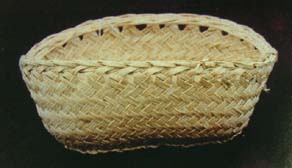 "And while they were the leaving the village of Airai, Medechiibelau felt a little saddened by the fact that the feast food is being carried out of his village to Ngerechelong., so he shed some tears to express some sadness. The gods realized that he was unhappy about the fact that the Airai feast food was being taken to a different village.
"So they dropped off one basket right on the hill and it turned into a limestone ridge, shaped like a basket. It's called Ngellangel. The word langel means 'crying,' so Ngellangel is 'the land where he cried.' Now there's a limestone ridge that sticks out of the ground as you go up the hill, called Ngellangel."