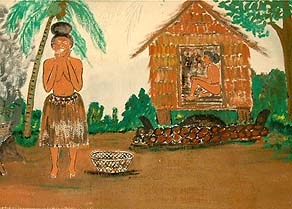 "Then after he brought this wooden shark to his home, he told his mother—he somehow had a mother, maybe an adopted mother, but a mother—he told her, "when you go to the taro patch at Ngerduais, do so but please, when you come home, before you step to the perimeter of the house yard, be sure to "ahem"—do that. It's clearing the throat.
"That is the Palauan way for visitors to alert people in the house, so that they can get ready to meet you. Houses were open, so if they were doing something that was kind of private, they could react properly to receive the guest.
"So he told his mom, 'when you come please make that noise, before you come to the yard, so I know that you are returning'."
"But when his mother goes to the taro patch in the morning, he would remove the flooring materials— you know you can lift the floor boards. He would remove the floor and turn the house into a pool. And he would play with his shark by beating on the house, and barking like a dog. Whooh! Whooh! And the shark would be swimming back and forth.
"So if you go to the lagoon and a black tip shark shows up and you bark, they react. Because that was conditioned by Medechiibelau. And the reason why he asked his mother to make that noise, is so that he can then convert the house back to its normal condition. But when the mother returns, the floor is kind of wet."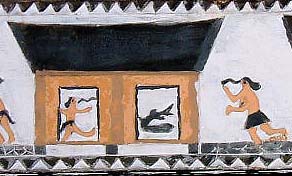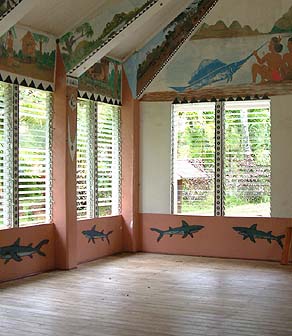 "So the mother did that for some time and everything was okay, but then one day the mother became kind of curious because the floor is always wet when she returns. So one day when the mother returns she says to herself, 'I am going to find out what my son is doing.'
"So she walked stealthily and started peeking through the door, and saw her son playing in this pool with his shark. So she says, 'oh, my son what is happening here?' Because this god can play like a child. So he felt bad about the way the mother felt about what he was doing, this kind of supernatural thing.
"So he took his toy shark to the pier, to the dock below, and threw the shark into the water. And the shark was always seen in that area in the lagoon here. Presumably the same shark which is the pet of Medechiibelau; it hangs around that area now."