"From Fais to the next island, Eauripik, that's the longest distance for this field trip ship to take, because it takes 48 hours from Fais to get to Eauripik. Then they will take perhaps half day to the next island, and overnight to the next, and on and on, until you reach the last island.
"So, we can say that there is a bigger gap between Fais, which is closest to here, and Eauripik which is closer to Woleai. That's the longest distance this field trip ship takes. So Ulithi is kind of close to Yap, but much further than the rest of the islands in Yap State."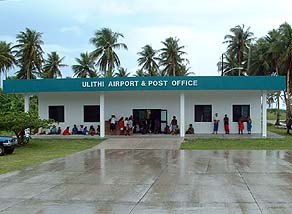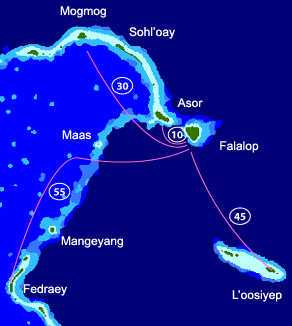 "Once you are in Ulithi, traveling in Ulithi is not that difficult. Even during rough weather people still travel. Falalop to Asor is only about ten minutes by motorboat, and it's about twenty-five, thirty minutes from Falalop to Mogmog.
"Falalop to Fedraey, it takes about an hour, slightly less. This is traveling in good weather. To get to Fedraey from Falalop, we pass Maas, Maas is on our right, so we cross in the middle of that submerged reef which extends from Asor to Fedraey. We have to cross to the inside of the lagoon, into calmer waters. And then we just ride past Mangeyang, we passed L'ool'ang, and then we get to Fedraey.
"From Falalop to L'oosiyep, it's about eight miles," Manuel says. "By a speedboat like today's speedboat, it takes maybe forty-five minutes or so. But by canoe, it would take us two, three hours."