"The homesteads are recent. In the olden days, when you cleared a piece of property, later on you could claim it, and they'd normally assign that property to you in writing. Now you apply for a homestead lot, and they'll look at your belongings, whether you have a piece of land from your mother or from your father, and whether you have a place where you can build something.
"A family with maybe two or three kids, or even one child, that's a qualifying position. I got mine in a lottery form. They'll announce that they have ten homesteads open, but there twenty of us might go down there, so we go down there and pick a piece of paper. If there's a number on it, then you have a lot, and that's how I got my property, for $50."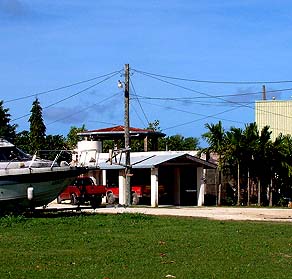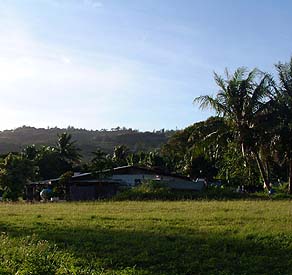 "There's homestead land all over Saipan, Rota and Tinian. The Division of Marianas Public Land Corporation is charged by the Constitution and by State Laws to research properties that can be developed into a village. They do that to relieve congested areas. Tanapag village was congested back in the 1970s,so they gave people land to release that pressure in the village.
"That's the inception of homesteading on the islands of Saipan, Tinian and Rota. They also opened up homesteading land in Kobler, Dandan, Kagman, Tanapag, As Matuis, and up in San Roque. There are quite a few new homesteads in those areas."
"Homesteading has diminished the socialization of the immediate family because now some of them are in Kagman. Some of them are in Kobler. Driving to these places is not a big deal, but it takes too much time to walk.
"Now you have to drive, or the children have to drive, and in these days not everybody can own a vehicle. It's quite expensive in the very beginning, and that is the disadvantage of being separated. But otherwise I think that it's more advantageous in that it decreases the social pressure in the village."