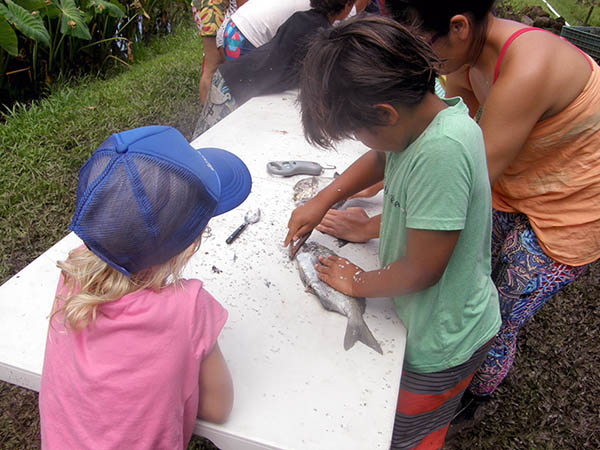 Young participants learn many things about fish and fishing at Lawai'a Camp.
"This community here has gone from having a very intimate relationship with everything from the mountains to the sea—all of the aspects of nature including the many species that are native here—to, within two or three generations, getting to a point where a lot of the kids can't even identify native trees," Kawika says. "So the process of getting us back to that area of intimate knowledge is a slow one. The only way we're going to be successful is if we think on a generational scale.
"It's not going to happen like, you run a few education programs and all of a sudden the kids are going to be embracing plants. They have to be raised to know the importance of these things and the cultural value. So what we focused on is, what are the things that connect? What connected the kūpuna, the ancestors, to the plants and the place? And that's stories. And so part of that we try to bring back the stories of this place."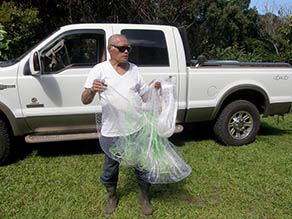 "I'm going to be 82 years old, my wife is 83, and we still are doing this," Uncle Tom remarks. "I tried to tell Kelii and Presley, 'You got to jump on the wagon because we're getting older. You guys got to carry on the work. I'm trying to hand on the responsibility and you guys learn all of this. Because you guys are the beneficiaries for everything what I'm saying.'
"The people like Waipā Foundation send the children over here, the young children, they learn how to make throw nets. I'm not kidding you, by the time they leave here they know something. Not nothing. I will make sure that they learn something. And by the time they go home from here, the end of the day after maybe five or six hours, they're throwing their nets all over the place on the ground. That's what I do, that's why I'm trying to teach all these people, the children, the adults—the mākua. I will say, it's time consuming, doing stuff like that."
Donovan talks about learning from the kūpuna.
"My niece's generation—people around 30—that's who we're doing this for, Kelii says. "This is a generation that we want to get involved with us, because we're not going to do this forever. We're going to teach you guys what's happening. If you guys cannot see this—this is why your grandmother got involved with the hui: because of the vision. So we're always trying to tell them 'Come down, come get involved with us, come down. Like any other place you go, it's always this talk, talk, talk. You just want to hear something, come straight to us. You will know the real thing. You going listen outside here? Is all rubbish.' These guys don't know what they're talking about.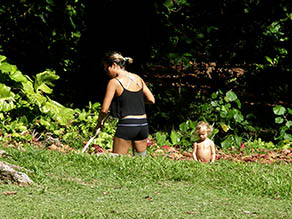 "So, now, she's got the picture, she feels the mana down there when she comes down. I mean, what better place can you be? It's a beautiful place. So I'm so happy. And getting the makule [elderly] involved, prepping them—this is what we try to do. Because they know—they know the kalo, they know the fishing. You just got to learn, that's why we're doing what we're doing.
"This year we plan on doing lawai'a camps. Taking them, and teaching them these to pick wana, clean the wana. We doing our 'opihi. We going to monitor. Teaching them all this stuff. Again easy to go pick 'em, right? But gotta do the work to keep it, to bring it back. That's where you get the reward: when you can do that. No more get the reward for catch them. To me the reward comes when you can produce them. That's best because to me that's the hard part is teaching everybody when to go catch them and when not to go catch them.
"My daughter, my oldest, my kids, at least I can see that they're going to be here," Lahela says. I said, 'If you go to school, go school and come back and take care of people here—not over there.' A lot of my nieces and nephews now are speaking fluent 'ōlelo Hawai'i, and it's a big thing for us. Here for my kids, so hard because we're in Hā'ena, but high school is all the way in Kapa'a. So sports and stuff, I could not have my kids involved because I work. I cannot be like 3:30, 5:30 and then try to take them to sports and drive all the way to Kapa'a. It's really hard. There are so many challenges we face here and, I don't know, I just want to make sure that my part in my life here is giving back. I could know of doing something for my place."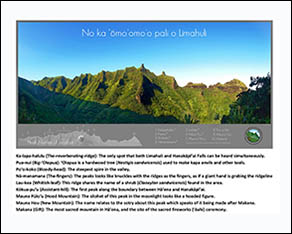 "As a means to reconnect the community with this place," Kawika explains, "we've done indigenous mapping projects—we've made amazing maps of the reef names and of the peak names and of the mountain—to try to re-awaken these stories and show them as visuals. Not only for the people who come here, but when we go out to other communities, we show them the work that we do, and most people are astounded that, for example, we still have our reef names. We're trying to bring back those stories, and planting the plants, and not only do we put in the plants and talk about the science, but we talk about their stories and their roles in culture."
"There is the story of the kalo, which is so much about how the family system is held together. And there is the origin story of the ulu tree—the breadfruit tree—that talks about the role of the father in the family, which is the father is supposed to make those sacrifices when the families are in need, and not just run away and go off and party.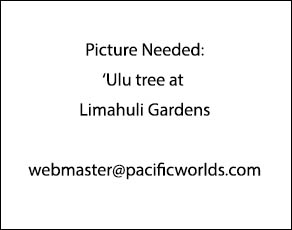 "And you know what happens when you stop telling these stories? You stop telling the stories of kalo and how the family is supposed to be the other, or the story of the ulu tree and how the father is supposed to sacrifice and provide for the family. When you stop telling the kids those stories and they are raised with these other perceptions of family and the role of the man in the family, it's no wonder that our families break down.
"Planting the plants, and telling the stories, and raising the kids with the stories again and of the plants and the place, that talk about how to be a person, how to be a human, how to have relationships, how to respect one another. Bringing back the stories is so much a part of how we've started to approach this."