Hā'ena is rich in sites of sacred and legendary importance. In modern, planning parlance, these are often referred to as "cultural resources." But for Hawaiians they retain a powerful significance that makes their use as "resources"—especially for tourism—problematic.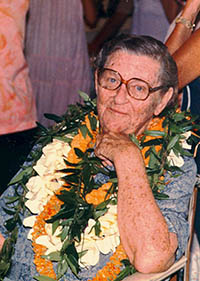 "Juliet Wichman, who is the one who traded land and saved the valley of Limahuli, laid down on the highway in front of county trucks who were coming to take rocks from Kē'ē and use them to build things in Hanalei or wherever," Makaala recounts. "In those days, that's what you did. This would have been the late fifties, early sixties.
"And in those days they were county rocks and county trucks, and they just did. And she understood the value of those things in that place. What they were doing was destroying Lōhi'au's house site and the heiau and a few other things. They had no concept that that's what they were doing, but she knew it. She was quite something. She just knew that what was right was right and she was a Rice, so she was definitely of the place. I have Rice roots as well.
"And she said what she said, and did what she did, and because she laid down in front of the truck, of course the men had no idea what to do next, and they left. And that I think was one of the beginnings of the returning of that place. I was told that story as a young person, and I use that story to empower me to stand up for what I think is right. Again, I'm not from this place and so in our tradition, that's not normally done. That's not okay. It's easier for a woman than it is for a man, no doubt. It's certainly easier now for me because my husband is from here, but I would have done it anyway. The history of Hā'ena and pushy women is long and strong."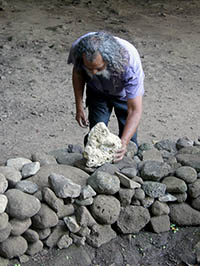 "Well, I've been bringing up these issues with Presley," Kelii says, "on taking care of our place from the County Park—from the dry cave, Maniniholo—from there all the way down, we go take care. Because, oh man, in the old days you could see every wall so clearly—clean, spick and span.
"When the County used to man the road," Nalani interjects, "the roadways used to be scenic."
"No water would run on the road, the drains would be all working, I mean clean," Kelii continues. "Always had a view. No poison used, all hand work, sickle—all hand work. But we got a lot to do right now—the Hui—so our priority now is to get us situated in our new place we are building at the lo'i. And after we get all that done, then we can go out and go meet with the County, because we brought it to the mayor's attention that we wanted to take care of the road sites, and that's when we cleared all that. Parts of the road is state. Where Maniniholo comes to Hale Pōhaku, all where the kamani stay, that's County."
Pōhaku loa—one of the roadside sites—has become completely overgrown in the last fifteen years. "I think there were times when there is an effort to clean it up," Kawika says, "but then the surfers would come and just sit on top of it and watch the waves. To put your butt on something, that is really disrespectful. So then there is a response like, "Okay, well maybe you should just let the thing be covered by the brush and so that way at least the brush will protect it from being disrespected."